Around this time of year, in anticipation of the holiday season, I deep clean my house. One by one the rooms are emptied and cleaned. Furniture is moved and cleaned behind. Cabinets are emptied and, if possible, moved and cleaned. Anything that needs re-painting gets repainted. The job is a bit overwhelming to me so I simplify it by doing one room at a time. Closets, by the way, are rooms all to themselves, and the kitchen takes three days, because, let's face it, just because I want to deep clean the house before the holidays doesn't mean life stands still just for me. I wish. No, I still have children to teach and meals to plan, shop for, and cook, and laundry piling up and pets to care for and a paying job that I have to work, too. So, with the help of my easily bribed children, the house is getting clean!
Today, while cleaning out the food cabinets in the kitchen, my daughter declared that she thinks her mother has a serious problem.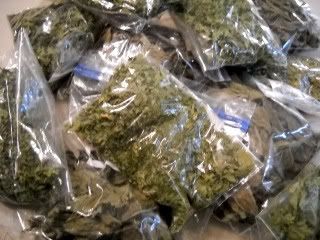 I have no idea what she could possibly mean. I do not have a problem. What I have is what I believe to be just enough parsley, basil, oregano, thyme, and tarragon stashed away from last season's herb harvest to get me to next season's harvest. Well, at least I hope it'll be enough.