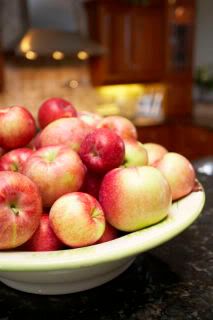 One of my favorite things about fall is the abundance of apples! Apples are just such a versatile fruit, aren't they? They're yummy just by themselves but also bake up into some of the best treats! Apple pie, apple turnovers, apple crisp, apple dumplings…mmmmm, can't you just smell all those apples and cinnamon baking away?!
Well, if you're trying not to overindulge through the holidays this year, and you're like me and you're completely devoid of self-control, maybe a cup of mulled apple cider will satisfy for a while. Don't get me wrong, this drink is still up there a bit in calories and sugar, but no where near an apple pie, and it has no fat. So, go ahead and indulge in a little apple goodness.
Mulled Apple Cider
Ingredients
5-6 whole allspice berries
Directions:
Slice orange and lemon crosswise into ¼ thick slices.
Pour Apple Cider into a large crock pot. Add orange and lemon slices, spices, brown sugar and tea bags. Stir well to dissolve brown sugar.
Heat on low for at least 4 hours to blend flavors. Strain into serving mugs. Strain any leftovers and refrigerate. Mulled Cider reheats very well!