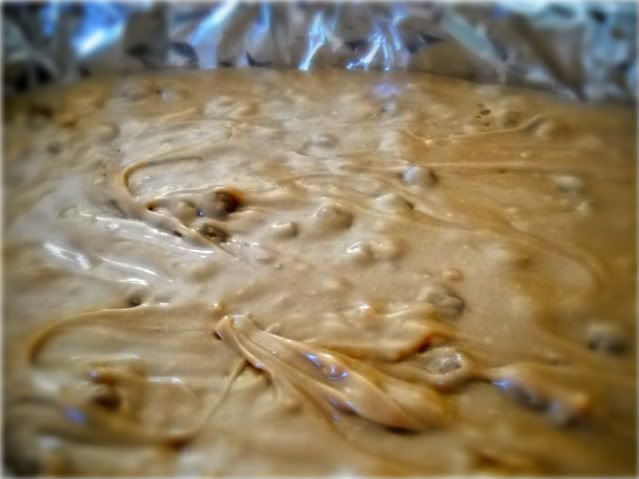 I love fudge. But I'm very picky about my fudge. Fudge must be firm but soft and stick-to-your-fingers gooey all at the same time. It has to be rich and full of flavor, not just sugar. You can keep your powdered sugar and sweetened condensed milk recipes. The powdered sugar recipes all come out too hard, and that much powdered sugar makes my mouth feel funny! And there's something about sweetened condensed milk that I know it's in the recipe. Kind of like Bisquik®. You just know it in the food. There are a couple of recipes like my daughter's friend Cindy's Magic Bars that the sweetened condensed milk doesn't jump out and scream, "I'm here!" But for the most part, I'm not a fan.
I found this recipe years ago in an old Neslte® cookbook, and tweaked it a bit to suit our tastes, of course. This is the one recipe that no matter how busy the holiday season becomes I find time to make.
Milk Chocolate Peanut Butter Fudge
1 ½ cup sugar
2/3 cup evaporated milk
2 tablespoons butter
¼ teaspoon salt
2 cups miniature marshmallows
1 cup milk chocolate chips
2/3 cup creamy peanut butter
1 teaspoon vanilla extract
Line an 8x8-inch baking pan with aluminum foil.
Combine sugar, evaporated milk, butter, and salt in a medium saucepan. Bring to a full rolling boil over medium heat, stirring constantly. Boil, stirring constantly, for 5 minutes. Remove from heat.
Immediately stir in marshmallows, milk chocolate chips, peanut butter, and vanilla. Stir vigorously for 1 minute or until everything is melted and well blended. Pour into prepared pan. Refrigerate for 2 hours or until firm. Lift from pan. Remove foil and cut into pieces.
Tips:
I do not recommend doubling this recipe. I'm reminded why you don't double this recipe at least once every Christmas. It is very difficult to melt and incorporate all of the peanut butter, chips, and marshmallows before the mixture cools. Talk about an upper body workout!
To make Chocolate Fudge, leave out the peanut butter and increase the milk chocolate chips to 1 2/3 cups. You can use semi-sweet chips as well. I just don't like my fudge made with semi-sweet chips. Again, semi-sweet chips just have a distinctive flavor that doesn't work in fudge for me. To each his own.
If you like nuts in your fudge, add ½ cup of chopped pecans, walnuts, or peanuts when stirring in the marshmallows, peanut butter, chips, and vanilla. Using chunky peanut butter instead of creamy will also give you a nice nutty fudge.
When I made my fudge today, I increased my peanut butter to 1 cup and got the chocolate chips nice and cold. What happened? Not all of the chocolate chips melted so I have a nice peanut butter fudge with chocolate chips. I learned this trick a couple of years ago by accident, and realized we really like the chocolate chips.
Thanks for stopping by! I have to guard today's batch of fudge so there's some left for our 4H Christmas party tomorrow! Pray for me. Protecting fudge around here is like spitting in the wind or tugging on Superman's cape. You just don't do it!
Grace and peace be yours in abundance,
Betty