I love a good story. Ok, it doesn't even have to be that good, it just needs a happy ending, and I'm there. I'm sappy like that. What can I say? Sometimes, though, a story comes along that you just enjoy reading over and over again. I think one of the best things about having children is that you get to read your favorite storybooks over and over again. It's a little weird seeing a grown woman reading Green Eggs and Ham, but put a youngin' next to her, and now she's a good mom.
We enjoy a lot of good stories here at Christmas time. One of our favorites has to be
The Legend of the Candy Cane
written by Lori Walberg and illustrated by James Bernardin. The story is about a stranger who moves into town in November and begins hammering and sawing in his newly rented storefront. A young girl offers her help to find that the new store is actually going to be a candy shop. As the story goes along, the young girl and the new shopkeeper become friends as they work on remodeling the shop together. In the end, the shopkeeper tell the girl, and the reader, about the history of and the meaning of the candy cane.
The artwork is absolutely beautiful. Our church did a Christmas movie night several years ago, and sandwiched between
A Charlie Brown Christmas
and Veggie Tale's
The Star of Christmas
was a delightful reading of this lovely story with the detailed illustrations shown on the big screen behind the storyteller. I think the artwork tells as much of the story as the words!
If you haven't read it yet, I urge you to check it out at your library or park yourself on the floor of your favorite bookstore and enjoy. Be sure to take a few kids along to read to so the employees don't point and snicker. It can be a bit embarrassing and distracting. Oh, and by all means, pick up a few bags of candy including a box or two of candy canes, and let your kids open up their own candy store. My son learned to do a lot of basic math operations in his head that way!
I haven't tried this recipe for peppermint candy canes yet. To tell you the truth, I'm a bit intimated by it. The recipe comes from
The ADVENTure of Christmas
by Lisa Whelchel. Come to think of it, I am done with Christmas shopping and wrapping and all of the kids' puzzles are ready. Maybe we'll tackle this little experiment today. Let me know if you try it. I'd love to hear the results.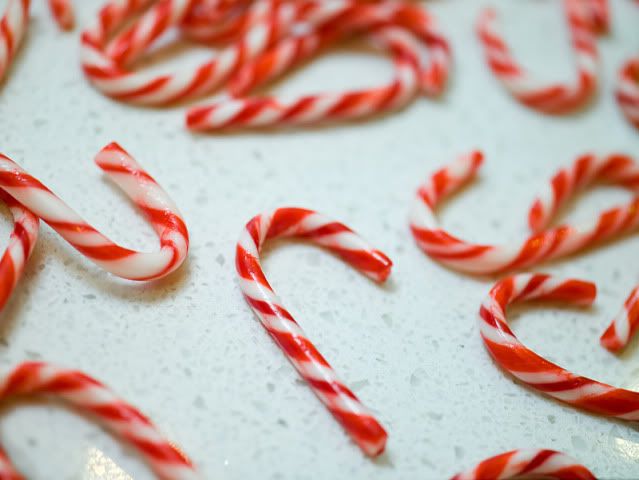 ½ cup water
3 cups sugar
¾ cup corn syrup
¼ teaspoon cream of tartar
1 teaspoon peppermint flavoring
¾ teaspoon red food coloring
Candy thermometer
Combine water, sugar, corn syrup, and cream tartar in a medium saucepan. Whisk together over low heat until the sugar is completely dissolved.
Divide the liquid between two saucepans and bring both to a boil. but don't sir until the temperature of each registers 280°F.
Add ½ teaspoon of peppermint flavoring to each pan and stir.
Add the red food coloring to only one of the pans and stir.
Remove pans from heat and cool.
After the contents of both pans have cooled enough to handle, stretch and pull the mixture, like taffy, forming into ropes of red and white. Then twist them around each other again and again.
Form the intertwined red and white ropes into the shape of a shepherd's staff.
Allow them to harden on an oiled surface.
Share the candy canes and tell them the story it teaches.