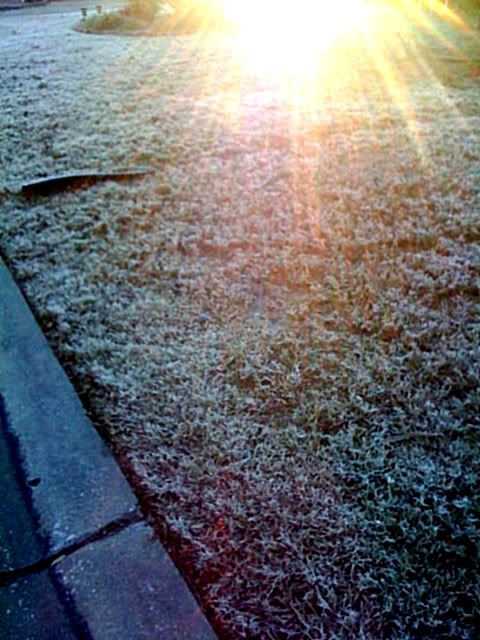 Thanks Michelle for the pic!
Brrrrr! Baby it's cold outside! There was actually frost on my grass today! Now, don't go lecturing me about the "real" cold and that Wyoming will be seeing -30°F today. I dare you northerners to spend just one summer here. When you live in 90°F+ temperatures most of the year, 50°F is downright cold, let alone 30°F! Supposedly, it has been predicted that we might even see some snow this season. Ouch! Sounds to me like ol'
Heat Miser
lost a bet to his brother!
Don't get me wrong; I like snow. I wouldn't mind living a few degrees latitude farther north, just far enough to get a couple of weeks of real winter every once in a while. However, this is two years in a row of freezing weather. Last years plummeting temperatures damaged and killed a lot of tropical foliage. This second round of arctic blasts just might kill the rest. With some of the crazy winds we've been getting, I'm waiting for penguin or two to drop into my backyard!
Thankfully, our outdoor animals are handling these cold snaps better than we are. Chickens are more cold tolerant than heat tolerant, and the bunnies all have a nice thick layer of long fur to snuggle in. We're more used to staving off heat stress; so, when the temperatures kept dropping, we had to do a little research to make sure everyone survived. Bringing the bunnies into the house for a night or two was challenging enough. I cannot imagine how we'd bring the chickens in if we had to!
What we learned about chickens though was very interesting. Because of their very high metabolism, they can handle some pretty low temperatures. Also, to help our girls get through the cold nights, we added milk and extra scratch grains to their feed. The milk and scratch grains encourages them to eat more which raises their metabolism which keep them warmer through the night. Surprisingly simple!
The rabbits can also handle some pretty low temperatures. We just had to keep them sheltered from wind, to keep their water bottles full, and to give them a good supply of hay to hide in if they needed it. When we brought them into the house a couple of weeks ago, we ended up with quite a bit of hay all over the living room floor. My hubby thought we were just going to set up a Living Nativity inside the house instead of visiting one at a local church. He really should be more careful about giving me interesting ideas!
I hope you and yours don't have to endure too much bad and cold weather today. Although, from what I'm seeing in the news, it doesn't matter where you live, you're experiencing some extraordinary weather. Stay warm. Summer's coming. Eventually. I think.
Thank you for stopping by! Right now, I'm going to put on an extra pair of socks and curl up in the sunlight streaming through the window. Baby, it's cold outside!
Grace and peace be yours in abundance,
Betty