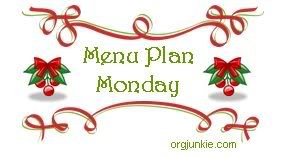 We were able to eat leftovers twice last week which means two meals carry over to this week. Woohoo!! That's fewer groceries I need this week!
My menu often reflects our schedule. You know when we have a busy day planned because dinner will be either a slow cooker meal or sandwiches of some kind.
I work from home and have struggled with staying disciplined and with dedicating hours to work. In a desperate attempt to set aside specific work hours, I now have a work schedule and I actually leave the house! Ok, I only walk two blocks away to the library, plug my computer in and start writing, but at least I'm focused! My menu plan also has to reflect this new change in the schedule. I've found that working two to six in the afternoon works great for me but not for dinnertime. So, on the couple of days a week that I'm out of the house working, my family is on dinner detail…sort of. At the moment, they don't have to plan any meals if the meal isn't a slow cooker meal, then detailed instructions for finishing what I've started are on the refrigerator. So far, so good, but we've only done this for one week. Pray for week two!
Menu Plan for Week of 12/06/2010
Oatmeal, fruit, granola, toast or rice crispies
Lunch
Hubby takes two sandwiches along with chips, carrot and celery sticks and an apple in his lunch. The rest of us will be eating either sandwiches or leftovers.
Sandwich of the week – BLT's
Fruit of the week – Apples (We eat a lot of apples!) and bananas
Dinner
Monday – Beef and Barley Soup with fresh bread
Tuesday – Layered Chicken and Potatoes (slow cooker)
Wednesday – Spaghetti
Thursday – Breakfast for Dinner (Boys only)
Friday – Pineapple Teriyaki Meatballs, smashed potatoes, veggies
Saturday – Chicken and Sausage Gumbo with rice
Sunday – Chicken and Sausage Gumbo with rice
Snacks – Crackers and peanut butter, fruit, carrot and celery sticks, or popcorn.
Thank you for stopping by! I'll be working Monday, Wednesday, and Thursday this week. The soup and bread al already ready and will just need to be heated before serving. On Wednesday, I'll have the sauce cooked and the pasta drying before I leave. Hubby just has to boil the pasta, warm the sauce, and toss together a salad. Thursday, the daughter and I are going to a homeschool High School Laser Tag event where we'll enjoy pizza for dinner. The boys are on their own! Looking back at my menu, I realized it's not a bad menu for a crazy week.
Grace and peace be yours in abundance,
Betty