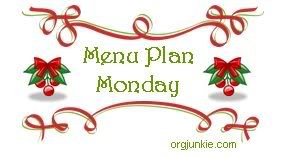 We are in the middle of a very nasty cold snap. I'm lovin' it! Well, except for the fact that we've had to bring all of the tomato and pepper plants in and moved the bunnies into the living room. Otherwise, I'm loving this cold weather. It sure makes the coffee taste better and puts me in the mood for soups and stews.
Menu Plan for Week of 12/13/2010
Oatmeal, fruit, granola, toast or rice crispies
Lunch
Hubby takes two sandwiches along with chips, carrot and celery sticks and an apple in his lunch. The rest of us will be eating either sandwiches or leftovers.
Sandwich of the week – PBJ's
Fruit of the week – Apples and oranges
Dinner
Monday – Chicken and vegetable in a creamy basil sauce over pasta
Tuesday – Texas Ranger Soup
Wednesday – Breakfast for Dinner
Thursday – Chicken pot pie
Friday – Homemade pizza
Saturday – Shepherd's Pie
Sunday – Beef Stew with homemade bread
Snacks – Crackers and peanut butter, fruit, carrot and celery sticks, or popcorn.
Thank you for stopping by! I think this cold weather has not only inspired a couple of soups but also a few comfort foods there.
Grace and peace be yours in abundance,
Betty