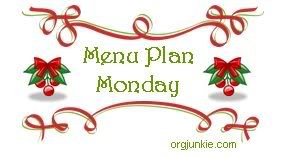 Well, we're in the home-stretch before Christmas. I have a lot of computer work ahead of me this week that I've been putting off. But, all the presents are bought and wrapped and their hiding placed decided, so dedicating a little extra time to get some writing done won't be so bad.
The menu this week is simple and filled with two-day dishes: meals that will feed us for at least two days! I also have a few more batches of cookies to make and a few more baskets of goodies to deliver. So far so good on having canned enough jams, jellies, and salsas for everyone. It'll be close, but I think we'll have enough. Yeah!
Menu Plan for Week of 12/20/2010
Oatmeal, fruit, granola, toast or rice crispies
Lunch
Hubby takes two sandwiches along with chips, carrot and celery sticks and an apple in his lunch. The rest of us will be eating either sandwiches or leftovers.
Sandwich of the week – PBJ's
Fruit of the week – Apples and oranges
Dinner
Monday – Breakfast for dinner (the fresh eggs are piling up!)
Tuesday – Chicken noodle soup with fresh bread
Wednesday – Leftover soup and bread
Thursday – Spaghetti
Friday – Chinese take out (tradition!)
Saturday – Baked ham, scalloped potatoes, roasted vegetables, mashed turnips, corn, green beans, tossed salad, rolls, and cheesecake
Sunday – Serious leftovers!
Snacks – Crackers and peanut butter, fruit, carrot and celery sticks, or popcorn.
Thank you for stopping by! Even though we absolutely love Chinese take out, we only get it about three or four times a year, and Christmas Eve has become one of those times. We realized that after going to church and visiting with friends a bit on Christmas Eve, the last thing anyone wants to do is cook dinner. So, as we head out for the evening, we slip the menu of our favorite place into the glove compartment and call our order in on the way home. We do have to be careful about over-ordering though. Between Christmas breakfast casserole taking up space and Christmas dinner fixings, there is absolutely no space in the refrigerator for leftovers!!
Grace and peace be yours in abundance,
Betty