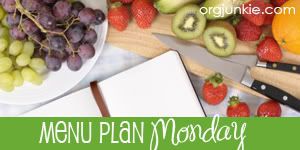 Did you have a nice Christmas? I did. We had a lovely day with my in-laws. The kids took a few hours to find all of their presents, and the house was filled with laughter and love all day long. It was a wonderful celebration of the birth of Jesus Christ.
This week, we have a couple more traditional meals to end the holiday season. For New Year's Eve, we spend the evening playing games, putting together a puzzle, and grazing on finger foods. According to my Polish heritage, New Years Day dinner must have pork and sauerkraut to ensure a prosperous year. I don't really believe in these old wives' tales, but I'm all over any reason to have fresh kielbasa for dinner!
Menu Plan for Week of 12/27/2010
Oatmeal, fruit, granola, toast or corn flakes
Lunch
Hubby takes two sandwiches along with chips, carrot and celery sticks and an apple in his lunch. The rest of us will be eating either sandwiches or leftovers.
Sandwich of the week – PBJ's
Fruit of the week – Apples and oranges
Dinner
Monday – Ham and Bean Soup with fresh bread
Tuesday – Fried Chicken, baked sweet potatoes, veggies
Wednesday – Enchiladas, beans and rice, veggies
Thursday – Hamburgers, chips, salad
Friday – Finger foods like jalapeno poppers, boneless buffalo nuggets, cheese and veggie tray, nachos, etc.
Saturday – Kielbasa and sauerkraut, mashed potatoes, veggies
Sunday – Grilled pork chops, herbed pasta, veggies
Snacks – Crackers and peanut butter, fruit, carrot and celery sticks, or popcorn.
Thank you for stopping by!
Grace and peace be yours in abundance,
Betty