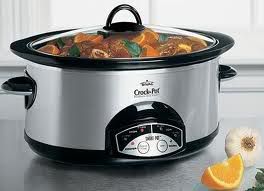 Welcome to today's grammar lesson. I try not to be too persnickety about grammar because first, grammar rules are always changing, and second, we all make mistakes. However, I visit a lot of recipes sites where one little oft-repeated oops kind of drives me batty. So, today, I'm posting this quick grammar lesson for all you recipe writers out there: Crock-Pot® is a trade marked term!
Yes, the term Crock-Pot® is the brand name of a slow cooker. If you would like to give the Crock-Pot® people some free advertising, by all means keep using the term, but at least use it correctly. Both words get capitalized, and there's a hyphen in the middle. Oh, and don't forget the trademark symbol at the end mad by putting an "r" between two parentheses. Or just make your life a lot simpler by changing to slow cooker.
Thanks for stopping by! I'll put my ruler away now. And yes, I know how many sentences I started with a conjunction. Is starting a sentence with "and," "but" or "or" really any different than starting it with "however?" Besides, the "don't start a sentence with 'and'" and the "don't end a sentence with a preposition" rules are phasing out according to the best writing professor at USF. Hmmm, I think we need to get school going again around here.
Grace and peace be yours in abundance,
Betty