December 1st to Christmas
Is the longest time of year.
Seems as tho' Old Santa,
Never will appear.
How many days 'til Christmas?
It's mighty hard to count.
So, this little candy ribbon
Will tell you the exact amount.
Untie a candy every night,
When the Sandman casts his spell,
And Christmas Eve will be here
By the time you reach the BELL!!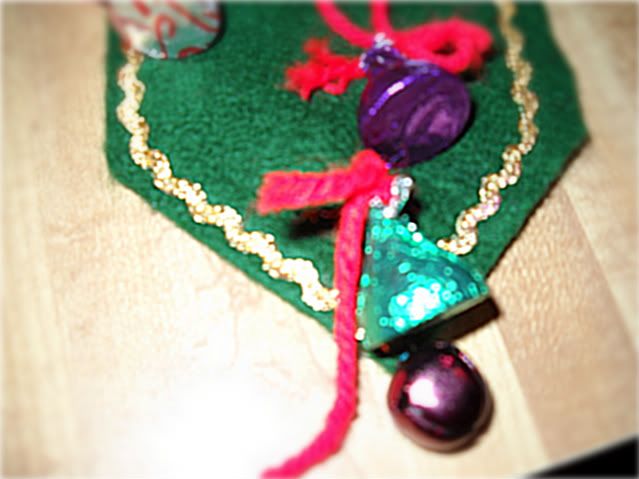 This is the poem that adorns the top of my children's Christmas countdowns. When I was young, dear friends of my family gave me this red and green felt ribbon filled with chocolate Kisses™, the poem on top and, of course, a bell at the bottom. To me, this was the coolest thing I'd ever seen! Every night, before bed, I'd get my candy kiss. It didn't take me long to realize that if you suck on the chocolate a little and just let it melt in your mouth, it lasts a long, long time.
As I outgrew my countdowns, nieces and nephews were popping up everywhere. So, my mother copied the design and passed out countdowns to everyone. When my children came along, I did the same thing.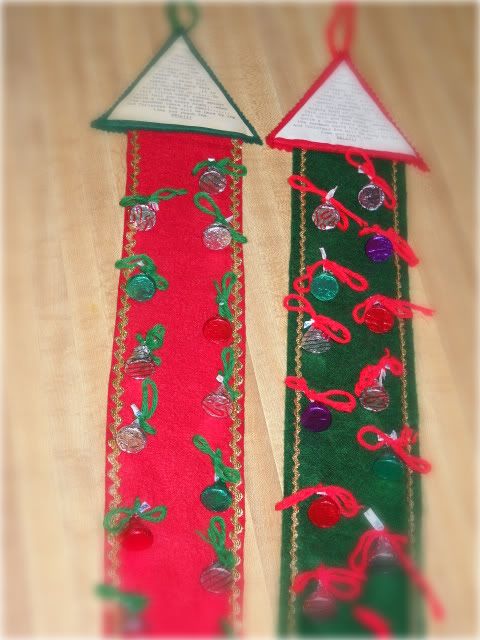 Colleen and Jared have theirs filled with a variety of Kisses™ this year. Milk chocolate, dark chocolate and candy cane kisses make quite the colorful countdown. There are even a few Hugs™ in the mix as well. So far, no one has pilfered any early ones. Missing Kisses don't get replaced!
My mother passed away about four years ago, and there's a whole passel of great-nieces and great-nephews running around. I think I'd best get busy on a few more countdowns!
Thank you for stopping by! By the way, I did not give credit to the author of the poem above because I don't know who it is. Every once in a while, I try searching the internet but always come up empty. If you know the author, please, let me know. I'd love to give him/her credit.
Grace and peace be yours in abundance,
Betty