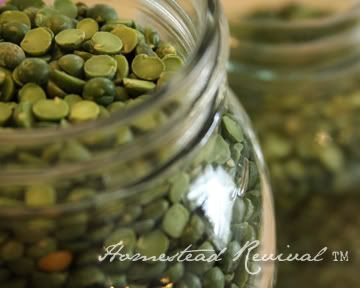 Amy over at
Homestead Reviva
l is hosting a recipe exchange for bean dishes. So, I thought I'd share one of our favorites. Dried beans are healthy economical additions to any eating plan. Be sure to pop over to
Homestead Reviva
l and check out the other interesting recipes.
We stumbled across this recipe during geography class a couple of years ago, and it's been a family favorite ever since. The recipe is close to the original, but, you know me; I can't leave well enough alone and have to modify everything!
1 lb. 9- or 15- bean mix
Water or chicken broth
10 oz. can diced tomatoes with green chilies
1 lb. diced ham, cooked, crumbled Italian sausage, or sliced smoked sausage
16 oz. can diced tomatoes (do not drain)
1 bell pepper, diced
1 large onion, chopped
2 cloves garlic, chopped
1 teaspoon dried parsley
½ teaspoon dried oregano
Salt and pepper to taste
Wash beans removing any foreign material. Place in a large pot and cover with water to 2 inches above beans. Let stand overnight or at least 6 to 8 hours. Drain and rinse beans.
Place beans in large pot. Cover with water or broth. Add the rest of the ingredients.
Bring to a boil. Reduce heat and simmer, covered, for about 2 hours until the beans are done. Stir occasionally to prevent sticking.
Tips:
I've found that using a ham steak that I've diced myself adds a lot more flavor than a package of already diced ham.
Bulk Italian sausage that has been crumbled and cooked or slices of smoked sausage are flavorful substitutes for the diced ham.
This recipe can be cooked in a slow cooker; however, even with the slow cooker set on High, you'll need at least 10 hours of cooking time. Make sure the beans are cooked through before serving or you're tummy will not be happy with you!