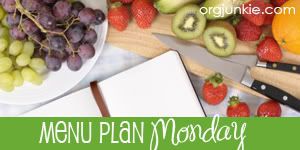 The weather has been amazing; so, we managed to get the spring garden planted! Yay!
You can tell the temperature is starting to rise around here. Slowly but surely my menu will include more and more salads and grilled foods and fewer and fewer long cooked meals. When summertime comes, don't be surprised to see a big salad topped with grilled chicken breast on the menu a couple of days in a week. Pasta salads will replace spaghetti and the grill will replace my oven and stove top as much as possible. We eat a lot of fruit and drink a lot of smoothies and sweet tea in the summertime. It's just too hot to want anything else! So, I'll be on the lookout for more good hot-weather recipes.
Menu Plan for Week of 02/28/2011
Lunch
Hubby usually takes one sandwich along with chips, carrot and celery sticks, and a piece of fruit in his lunch. The rest of us will be eating either sandwiches or leftovers.
Sandwich of the week – PBJs
Fruit of the week – Apples, pears, plums, grapes, and cantaloupe
Dinner
Monday – Breakfast for dinner with lots of fruit on the side
Tuesday – Pot Roast, slow cooker meal
Wednesday – Grilled chicken salads
Thursday – Hawaiian Pork
Friday – Chili and cornbread
Saturday – Leftovers, salads, and sandwiches
Sunday – Stromboli and salad
Thank you for stopping by!
Grace and peace be yours in abundance,
Betty