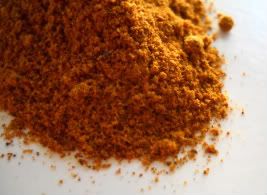 Are you ready for a surprise? Chili Powder is not that hard to make. If you already grow a variety of peppers, then this is a great way to use that harvest!
3 ancho chiles, stemmed, seeded, and sliced
3 dried New Mexico chiles, stemmed, seeded, and sliced
3 dried arbol chiles, stemmed, seeded, and sliced
2 tablespoons whole cumin seeds
2 tablespoons garlic powder
1 tablespoons dried oregano
1 teaspoon smoked paprika
Place all of the chiles and the cumin into a medium sauté pan or cast iron skillet (my personal favorite). Do not oil or grease the pan! Cook over medium-high heat moving the pan around constantly, until you begin to smell the cumin toasting. If you don't trust your nose, then time the cooking at about 4 or 5 minutes. Set aside and cool completely.
Once cool combine the chiles, cumin, garlic powder, oregano, and paprika in a blender. Process until a fine powder is formed. Allow the powder to settle for a minute before removing the lid. Trust me; you will only forget this step once! Store in an airtight container for up to 6 months. Makes enough to fill that 4.5-ounce Chili Powder container from your spice cabinet that you just emptied.
Tips:
If your blender does not grind the powder fine enough for your taste, try a coffee/spice grinder. I don't have a blender, and used my food processor the first time I made chili powder. Not a good idea! I'm pretty sure chili powder should not be chunky. However, my coffee grinder worked perfectly!
Don't be intimidated by the names of the peppers. They really aren't expensive or difficult to find. Try the produce section of your local grocery store to buy the dried chiles individually or the Mexican/Hispanic aisle for larger bags.This particular combination of chiles is based on what we have readily available to us and on what my family likes best. However, don't be afraid to experiment! Try different combinations and quantities to find what you like. Just remember the golden rule of peppers: The smaller the pepper the higher the heat!
In the end, I don't think making my own chili powder saves me any money. It comes out about the same price as the equivalent size bottle of generic powder in the store. However, the generic powder's ingredient list isn't quite as nice as the one above. My Publix brand chili powder contains "chili pepper, spices, salt, silicon dioxide (added to make free flowing) and garlic." For about the same price I've managed to make a much better tasting product with no salt or silicon dioxide (which really doesn't sound at all appealing). I'll take it!
Check out your local FreeCycle group or a Pick Your Own farm for the peppers, and dry them yourself. I've noticed many hot pepper growers offering their excess peppers for free!
Ancho chiles are dried Poblano peppers.
Not sure what to do with chili powder? Join the club. My mother was an amazing cook, but we never had homemade chili. I know. Poor deprived me. Well, at least I enjoyed more than my fair share of kielbasa, halupki, pierogie, and halushki. Anyway, chili powder is perfect for just about any bean dish. For some great flavor, add a dash or two to corn breads, fritters (not apple ones, please!), hush puppies and even macaroni and cheese. Did you know that chili powder is also the main ingredient in enchilada sauce and taco seasonings? Oh, and, of course, it's a must in a big ol' pot of chili!
So, fire up that dehydrator and blender and enjoy!!