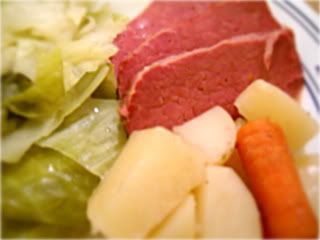 We don't have corned beef often, usually only once a year on St. Patrick's Day to celebrate my husband's Irish heritage. This is my favorite corned beef and cabbage recipe by far! It's easy to prepare and so full of flavor.
Corned beef does shrink significant;y during cooking. Plan from one-half to a full pound per person, depending on if your family will fill up more on vegetables or meat.
Corned Beef and Cabbage (Slow Cooker recipe)
2 stalks celery, cut into 2-inch chunks
6 carrots, cleaned and cut into 2-inch chunks
1 medium onion, cut into wedges
6 potatoes, peeled and cut into chunks
1 4-pound corned-beef brisket
1 12-ounce bottle stout or dark ale
1 tablespoon pickling spices
1 medium head cabbage, chopped into 2-inch pieces
Place celery, carrots, onion, and potatoes in the bottom of a large slow cooker. Rinse the corned beef brisket and place over vegetables. Add the bottle of stout or ale and enough water to just cover the meat.
Place spices in a small square of cheesecloth. Gather the corners together and secure in a bundle. Place the bundle in the slow cooker, tucked next to the meat.
Cover and cook on LOW for about eight hours.
Remove the meat and vegetables from the pot and cover with foil to keep warm. Add cabbage to the juices in the pot. Increase the heat to high and cook cabbage until softened but still a little crisp, about 30 to 45 minutes.
Cut off corner of meat and taste test (Husbands only).
Slice brisket across the grain and serve with vegetables, mustard and horseradish sauce.
Tips:
My husband wasn't about to part with any of his Pumpkin Patch Ale or Christmas Cheer Ale that he recently made, so I just used regular beer. The stout or ale would have added more flavor, but the beer did just fine, too. Use what you have!
I highly recommend that you do not skip the "husband only" step. It makes them cranky!
Did you notice that I didn't have you add any salt?