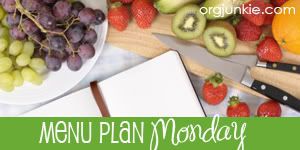 Things are starting to sprout in the garden! It won't be long and I'll be doing more grocery shopping in the backyard than at the store for a while. Ok, it'll be about two months before we start harvesting anything, but I can still dream. In the meantime, I'll just keep enjoying my favorite produce stand.
I'm at a bit of a loss for my menu this week. I'm feeling pretty un-creative about the menu this week. So, the menu is not written in stone this week. I may just scrap everything and have salads all week!
Menu Plan for Week of 03/07/2011
Breakfast
Lunch
Hubby usually takes one sandwich along with chips, carrot and celery sticks, and a piece of fruit in his lunch. The rest of us will be eating either sandwiches or leftovers.
Sandwich of the week – PBJs or veggie sandwiches
Fruit of the week – Apples, pears, plums, and cantaloupe
Dinner
Tuesday – Chicken Cacciatore over homemade pasta, tossed salad
Wednesday – Grilled chicken salads
Saturday
–
Pizza
and salad
Thank you for stopping by!
Grace and peace be yours in abundance,
Betty