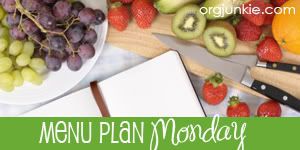 We have a nice quiet week ahead. Yay! I have a few gardening and sewing projects I need to tackle so the break from running hither, thither, and yon will be welcome.
This coming weekend, we will be celebrating Jared's birthday. I can't believe my "baby" is turning 12! It goes so fast. Don't blink!
For their birthdays each year, the kids get to decide what they want for dinner. Jared always wants lasagna! So, lasagna it is. I think I'll make a couple and freeze the extras. Lasagna is a good meal to have on hand in the freezer for unexpected company. It goes from freezer to oven to table in about one hour. Toss a salad on the side and dinner is served with almost no work.
Jared hasn't decided if dessert will be a store-bought birthday cake or a cheesecake. Both have their merits. And both are great for the morning-after-the-birthday breakfast. Yes, we usually eat very healthy breakfasts around here. But every once in a while, a special indulgent treat must be allowed.
On Sunday, we'll be enjoying a day at Busch Gardens. Busch Gardens' passes are definitely a nice perk for living in Florida. Of course, we don't eat inside the park. We'll be tailgating as usual. I don't mind. It's kind of fun to hang at in the back of truck, enjoying a picnic together.
Menu Plan for Week of 03/21/2011
Lunch
Hubby usually takes one sandwich along with chips, carrot and celery sticks, and a piece of fruit in his lunch. The rest of us will be eating either sandwiches, salads, or leftovers.
Sandwich of the week – PBJs, veggie sandwiches, or salads
Fruit of the week – Apples, oranges, plums and cantaloupe
Dinner
Monday – Hawaiian pork with peppers and pineapple over rice
Tuesday – Grilled chicken salad
Thursday – Chicken pasta salad
Saturday – Lasagna, tossed salad, cake
Sunday – Sandwiches
Thank you for stopping by!
Grace and peace be yours in abundance,
Betty