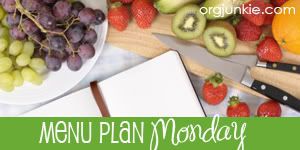 This week's menu looks a lot like last week's menu. Between getting ready for prom and putting the final touches on 4H demonstrations and my working a few more hours last week, we ended up throwing together quickie salads more often than following the menu. Praise God for my dear family who doesn't mind eating the same thing 4 days in a row!
Menu Plan for Week of 04/11/2011
Lunch
Hubby usually takes one sandwich along with chips, carrot and celery sticks, and a piece of fruit in his lunch. The rest of us will be eating either sandwiches, salads, or leftovers.
Sandwich of the week – PBJs, veggie sandwiches, or salads
Fruit of the week – Apples, oranges, and cantaloupe
Dinner
Tuesday – Grilled chicken salad w/artisan bread
Wednesday – Baked Sausage, tomatoes, ricotta and penne pasta, salad
Thursday
–
White chili
w/ tortilla chips and salad (We didn't get to this either last week)
Friday – Breakfast for dinner (eggs over easy, pancakes, and sausage and potato skillet)
Saturday – Baked chicken, herbed rice, salad, green beans
Sunday
– Hot dogs, potato salad, tossed salad,
coleslaw
Thank you for stopping by!
Grace and peace be yours in abundance,
Betty