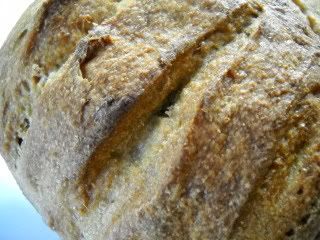 I've been baking bread regularly for my family for many years. I use fresh-milled flour for good health and good flavor. A while ago, all of my bread-baking friends were trying the no-knead artisan bread recipes that surfaced when the book
Artisan Bread in Five Minutes a Day
by Jeff Hertzberg and Zoë François hit the stores. I tried it, too. The bread was tasty, but we were eating a lot of sandwiches at the time, and this is definitely not a peanut butter and jelly bread. This bread is hearty tasting with a soft moist crumb but a nice chewy crust. It's pretty close to a good sourdough bread but with out the work of creating and keeping a starter.
Because we've been eating a lot more salads, soups, and grain-less meals, I re-visited the recipe. Actually, my husband re-visited the recipe, and we both decided artisan bread needed a place on the menu. The beauty of this recipe is that it has no sugar or fat and is so filling that a little really goes a long way. It also has so much flavor that you can skip the butter, and you won't miss it all.
We lovingly call this bread "Jesus Bread" because instead of slicing it, we simply rip a chunk off and pass it along which makes me think of stories of holiday dinner traditions that my father used to tell us about his childhood. From what I can remember, the tradition was similar to having communion at the beginning of Christmas and Easter dinner. I think that's a tradition that needs to come back!
Anyway, here's the basic no-knead bread recipe that I like. I highly recommend picking up a copy of
Artisan Bread in Five Minutes a Day
by Jeff Hertzberg and Zoë François from the library. It won't be long, though, before you realize you'll want a copy to keep!
No-Knead Artisan Bread
3 cups lukewarm water
1 ½ tablespoons yeast
1 ½ tablespoons coarse kosher or seas salt
6 ½ cups unsifted flour
Heat water in a large bowl to about 100°F. Add yeast and salt.
Mix in the flour by gently scooping it up and then leveling the top of the measuring cup with a knife. Do not pat it down.
Mix with a wooden spoon or a heavy duty stand mixer, until uniformly moist. Do not knead!
Place dough in a 5-quart container that has a lid. Do not seal the lid. Cover loosely and let the dough rise at room temperature until it begins to collapse, at least 2 hours. Refrigerate until you are ready to make bread. Keep the dough covered, but do not completely seal the container.
On baking day, prepare a cookie sheet by sprinkling it liberally with cornmeal or covering it with a piece of parchment paper.
Wet your hands to prevent the dough from sticking to you. Scoop out a 1 pound ball of dough, about the size of a grapefruit, and cut it away with a serrated knife.
Gently stretch the surface of the dough around to the bottom, rotating the ball a quarter-turn as you go. Do not knead the dough. You are simply stretching the surface dough until it ends up on the bottom of the loaf. Don't overthink it…like I did.
Place your dough on your cookie sheet. Let rise uncovered for about 40 minutes. You may or may not see any actual rising happening at this point, but the dough will rise in the oven during baking, so don't worry.
Twenty minutes before baking, preheat the oven to 450°F and place one oven rack in the middle of the oven and place a second one on the bottom. Fill a glass baking dish with ice cubes and place it in the oven on the bottom rack.
Dust the top of the loaf liberally with flour. Slash lines across the top of the loaf, ¼" deep, with a serrated knife.
Bake at 450°F for 30 minutes. Place the bread immediately on a wire rack. Cool completely.
Refrigerate the leftover dough to use over the next two weeks.
Tips:
You can use unbleached all-purpose flour, but I've found that fresh-milled flour works great and makes a bread with a lot of flavor that's not as dense as most breads are when made with all fresh-milled flour.
I find this recipe to be a bit salty for my taste, so I only use 1 tablespoon. Try it the original way first and tweak it as you need to,
I gave you instructions for baking this bread on a regular cookie sheet. The original recipe uses a pizza peel to slide the dough onto a preheated stone. I don't have a pizza peel or a stone so I made adjustments for what I had. If you do have the peel and the stone, sprinkle cornmeal on the pizza peel and let the dough rise on the peel. Place the stone in the oven when preheating the oven in order to heat the stone. When you're ready to bake, slide the dough from the peel to the stone and bake at 450°F for 30 minutes.
I use ice during the preheat to create steam in the oven. You can also place a broiler pan on the bottom rack and after placing the dough in the oven, carefully pour about an inch of water into the broiler pan. In either case, be very careful when opening the oven. A lot of hot steam will come pouring out at you!
I haven't tried any of the variations in the
book
, but they if they're anything like this original recipe, they should be pretty yummy! I hope you enjoy!