Ever since I started making
homemade yogurt
, we've had a steady supply of plain yogurt in the refrigerator. I've been using it to make smoothies and as a sour cream substitute. However, I grew up on over-sweetened flavored yogurt. Plain yogurt as a breakfast or snack just doesn't work for me or my kids. Stirring a spoonful or two of jam into the yogurt is very good, but I needed something new. When I posted the directions for making homemade yogurt, Elizabeth from
Home Musings
commented that a little brown sugar was enough to make her children devour the yogurt. So, we played around with that a bit and came up with this yummy breakfast concoction.
Banana Breakfast Yogurt
1 medium banana, sliced
½ cup plain yogurt
1 teaspoon brown sugar
¼ cup granola
Arrange half of the banana slices in the bottom of a small bowl. Spoon the yogurt over the banana slices. Sprinkle the brown sugar over the yogurt.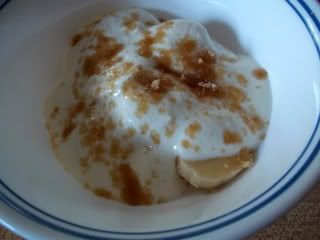 Arrange the rest of the banana slices over the brown sugar layer. Top with granola. Grab a spoon and enjoy!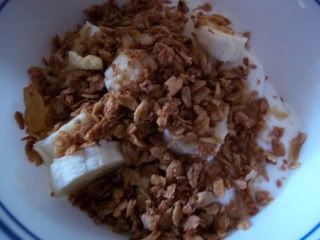 The brown sugar and bananas added just enough sweetness for all of us. I imagine drizzling a teaspoon of honey instead would also be wonderful! The granola added a nice satisfying crunch to the dish.
I've found that this is enough to get me started for the day without having to clean the blender. It's light, and it's cold. Perfect for summer in Florida eating! I hope you enjoy!