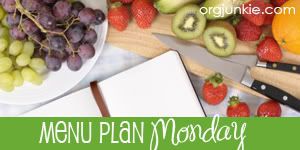 We had an obscene amount of leftovers to enjoy on Sunday, so Sunday's salad became Monday's salad, and I had complaints that we didn't have our weekly tomato-sauce based Italian dish last week, so we had an impromptu menu change to include spaghetti. And you thought I was bad with my routines! My family is worse! Just moving the grilled chicken salad around a bit is completely freaking out my daughter. If you saw just how un-routine our lives are here, you'd really laugh at our deep-seated need for a routine menu plan.
Menu Plan for Week of 06/06/2011
Lunch
Lunch of the week – PBJs, veggie sandwiches, leftovers, or salads
Fruit of the week – Apples and watermelon
Dinner
Wednesday – Turkey Wraps
Saturday – Grilled hot dogs, sauerkraut, French fries, salad
Sunday – Salad Bar Sunday
Thank you for stopping by!
Grace and peace be yours in abundance,
Betty