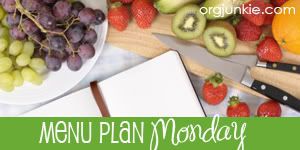 I just realized that I haven't posted anything other than the Menu Plan for two weeks now! I guess I've just been so occupied with doing the things I write about that I haven't had time to write about them! I'll make up for that this week and post about the last fourteen "lazy" days of summer. It's been an interesting summer so far. So much for a leisurely summer!
Menu Plan for Week of 07/18/2011
Breakfast
Lunch
Lunch of the week – PBJs, veggie sandwiches and wraps, leftovers, or salads
Fruit of the week – Apples, plums and pears
Dinner
Tuesday – Breakfast for dinner
Saturday – Spaghetti
Thank you for stopping by!
Grace and peace be yours in abundance,
Betty