For the last couple of weeks I've been seriously drooling over my blog friends' gardening posts. Summer is coming to an end and their gardens are flourishing! I admit it. I'm jealous! Although we get beautiful, regular rains through the summer months, the high temperatures eliminate any thoughts of an abundant harvest. Oh sure, tomato plants will still grow and may even sport a flower or two, but those perky yellow flowers are just mocking you. Usually, when temperatures top 90 on a regular basis, those flowers won't set fruit. Of course, I have my handful of okra plants that are pretty, but it's just not the same as heading out to the garden everyday to pick dinner. So, I wait. And covet. And drool. But, I won't have to wait very much longer!
The Florida vegetable gardening season is just getting started. We'll be planting over the next couple of weeks and again in February. The extra-long growing season really help urban farmers. We can't grow a lot at once, but we can grow for longer periods. Crops like broccoli, lettuce and snap beans can be planted almost continuously from September through April. As we harvest, we can immediately replant, if we want to, or plant something else if we're rotating crops.
The long season is a strain on the soil. Plus, our soil is on the sandy side. Ideally, vegetable garden soil is a sandy loam that is about 40% to 60% sand. Our soil is more like 80% sand. Sandy soil is great for roots to move through, but the excess sand prevents water and nutrients from getting to the roots. In order to take full advantage of our long growing season, we have to amend our soil often.
This season, we started early! We contacted a friend of ours who owns a barn. She and her husband delivered a trailer full of composted manure! Since my neighbors already wonder about us a bit, a pile of manure on the front lawn probably didn't even raise an eyebrow.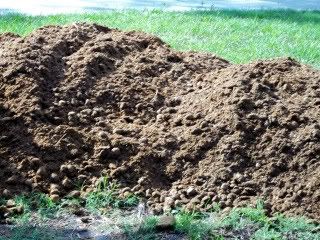 Jared and I hauled about half the pile to the garden before the sun made things a little too hot for us to handle. My dear husband finished hauling the pile as soon as he got home. I was definitely in awe of him that day, knowing he worked a full day of construction out in this heat and then hauled wheelbarrow-full after wheelbarrow-full to the backyard. Yeah, he's a keeper!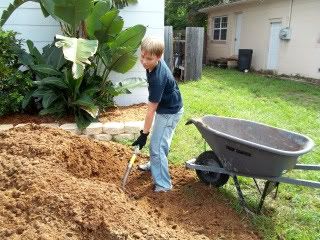 Anyway, that manure covered a 20'x30' garden about 4" to 5" deep! That's a load of....! :D Now, we just need to till it under, and let nature take its course.
Meanwhile, we had to get seedlings started. Jared really likes helping with our homesteading chores and jumped right in to plant seedlings. We planted 100 various vegetable and herb seed that day and they're already popping up! I can't wait for planting day!
For all of my Florida friends and visitors, check out the
Vegetable Gardening Guide
at the
University of Florida IFAS Extension
. I highly recommend downloading and printing the .pdf file that's at the top of the page! The guide is filled with excellent Florida-specific gardening information including plant dates in the chart at the bottom. The pdf. file is easier to read.
For all of my out-out-state friends and visitors, check out your state's cooperative extension website for gardening information in your area. Information geared toward your area will yield much better results than the general information printed on the seed packets.
By the way, anyone living in
zones 8, 9, 10, and 11
will want to look at those guides now. It's planting time!!
Thanks for stopping by! If you have a vegetable garden right now, I'd love to drool over pictures of your harvest. Feel free to leave a link in your comments!
Grace and peace be yours in abundance,