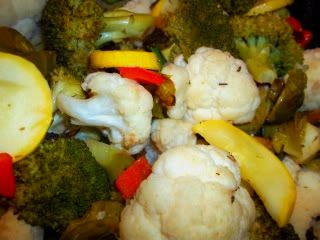 Last week, I found an amazing and simple recipe for Roasted Potato & Green Bean Salad. We enjoyed it so much, that I used the same idea on a large pan of mixed vegetables. My husband has decided that roasted is his new favorite way of eating veggies!
4 to 5 pounds of a variety of vegetables like Brussels Sprouts sliced in half, ¼" slices of yellow squash, cubes of zucchini, fresh green beans, cauliflower and broccoli flowerets, peeled and sliced pieces of broccoli stems, diced red pepper, peeled and cubed eggplant, small whole mushrooms or halved large ones, and a peeled and cubed sweet potato or two if there's room.
1/8 cup plus 1 tablespoon olive oil
1 head of garlic
½ teaspoon sea salt
½ teaspoon course ground black pepper
1 tablespoon fresh dill weed
2 teaspoons dried parsley
½ teaspoon dried thyme
Preheat oven to 450°F.
Toss washed and prepared veggies into a large bowl. Drizzle 1 tablespoon of olive oil over veggies and toss to cover.
Pour veggies into a large baking pan very lightly coated with olive oil.
Chop the top off of the garlic head, exposing the cloves but keeping the bulb in tact. Rub the exposed area around the prep bowl to coat with olive oil. Place the garlic, cut side up, in the middle of the pan of veggies.
Roast at 450°F for 15 minutes. Flip the veggies over. Continue roasting for another 15-20 minutes or until fork tender.
Remove roasted garlic and set aside. Place roasted veggies in a large bowl.
Pop the garlic cloves out of the papery peel and into a small food processor. The roasted cloves will be soft and should slide out with just a little squeeze. Add remaining olive oil, salt, pepper, dill, parsley and thyme. Process until smooth. Pour garlic sauce over veggies and stir until veggies are well-coated.
Roasting really brings out a great flavor in all of these veggies, and the roasted garlic sauce is the perfect complement.
This recipe makes a lot of veggies, but since veggies should make up the majority of your plate, you and your family shouldn't have any problems devouring the whole pan!
GNOWFGLINS' Simple Lives Thursday