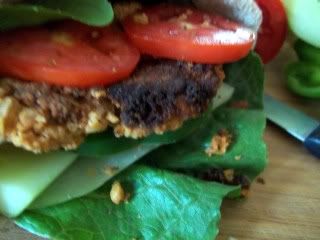 During our six week stint as vegans, I had to find interesting things to eat that fit within the parameters of the diet and the boundaries of our budget. At first, finding suitable recipes was quite the challenge.
One thing we found we really liked and plan on keeping in the menu are bean patties. I absolutely will not call them a substitute for hamburgers, but these patties can definitely stand on their own merit.
The
original recipe
called for black beans, which we tried and enjoyed. However, when I changed to chick peas, we like these even more! With the chick peas, it's like falafel after a cosmetic-counter-at-Macy's-makeover. It's still the basic idea of falafel but without the frying and with a little more kick. Kind of like you're still you after that makeover but without blotchy skin and with a little more spring in your step. Okay, that was a bad analogy, but it would take too long to delete it. So, you're stuck with it. Sorry.
The original recipe also called for way more ground cumin than my family likes. I cut it out and added more garlic, which we do like, and chili powder, which we also really like. Since we eat these in pita instead of on buns, I made the patties a little smaller and ended up with eight pita perfect patties. ( I am way better at alliterations than analogies.)
Anyway, I like to cook in cast iron. Beware! The black bean patties took on a bit of a metallic taste from the skillet. If you use black beans, cook in something other than cast iron. The chick peas version didn't have any off flavors from the cast iron.
Bean Patties
1 jalapeno, seeded and diced
3 cloves garlic, minced
2 cans (15 Oz.) black beans or chick peas, drained and rinsed
2 teaspoons chili powder
1 teaspoon salt
1 tablespoon ground flax seed or cornmeal
1 tablespoons water
½ cups breadcrumbs
1 8-ounce can tomato sauce
½ cup corn, fresh or frozen, thawed
3 tablespoon olive oil
8 pita bread halves
Add the diced jalapeno and the minced garlic cloves to a food processor (or high speed blender). Yes, you can have the food processor to the chopping work if your food processor can actually chop such a small amount. Mine doesn't even acknowledge its existence let alone touch it with a blade. I chop.
Add one can of beans to the jalapeno/garlic mixture and pulse to combine. Add chili powder and salt and pulse until mixture resembles chunky black bean dip.
In a small bowl, mix together the ground flax or cornmeal and water. Let the mixture sit for five minutes. The ground flax seed adds some good nutritional stuff, but if you don't have it, cornmeal works just fine. Can you figure out how I found that out?
Add second can of beans, ground flaxseed mixture, tomato sauce, and corn. Pulse until well combined but very chunky. I tried to just stir the second can into the mixture like many other recipes suggested but the patties fell apart. Pulsing the mixture a couple more times in the food processor keep the patties together better during cooking.
Heat the olive oil in a skillet on medium high heat. Form the bean mixture into patties and fry for about 4 minutes per side, until golden and crusty brown. If the mixture seems to wet, stir in more bread crumbs, one tablespoon at a time, until the mixture is moist and stick together but isn't sopping wet.
Serve one patty in half a pita with lettuce, tomato slice, green pepper slices, cucumber slices and onion slices. Do not add the onion slices if you plan on kissing your spouse who cannot stand onions the rest of the day. I'm just sayin'.
By the way, the corn is also optional if you happen to forget that you put it in the microwave to defrost. I'm not a fan of the microwave; therefore, I "occasionally" forget that I've even put anything in it. It's a gift.