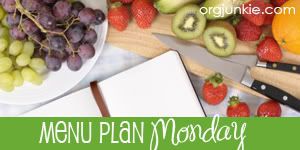 This past week flew by in a blur! Everyday had some meeting or event penciled in that we had to be at. I felt like I was running a marathon, and the finish line was never in view! When we did finally cross the finish line last night, I was so happy to see that this week's calendar is a lot less full than last week's. Praise God for a little relief!
You might recognize a few items on this week's menu that were on last week's menu. We ended up with no time to cook very much so we ate a lot of veggie wraps and veggie pitas on the go. So, I just add what I didn't make last week to this week's menu. Easy peasy!
Menu Plan for Week of 09/19/2011
Lunch
Lunch of the week – Salads, wraps or leftovers
Fruit of the week – Apples, bananas, and peaches
Dinner
Monday – Minestrone Soup and a salad
Tuesday – Bean soup, tossed salad
Wednesday – Grilled chicken breast pita sandwiches
Thursday – Roasted veggies, tossed salad
Friday – Veggie wraps
Saturday – Homemade pasta with sautéed veggies covered in marinara (aka spaghetti)
Sunday – Grilled chicken, corn and black beans salad
Thank you for stopping by!
Grace and peace be yours in abundance,
Betty