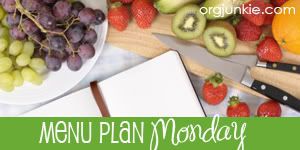 We just wrapped up week 5 of our Eat to Live challenge! The scale moved a little more in the right direction! Yay!! I'm really happy with the progress we've made, but neither one of us is where we want to be. Since we really aren't having any problems on the strict diet, we may continue it a little longer before re-introducing a few foods we really miss.
I have to say that I feel great even though I'm pretty much eating nothing more than fruits and vegetables with a little starch, a little soy milk, a multivitamin and a lot of water everyday. I really expected to feel a lot more run down than I do. My hubby is feeling the extra energy, too and loving it! It's planting season and the beginning of the new school year and 4-H year. That extra energy is coming in handy!
Our challenges for the week:
I bored. I'm really bored with the limited menu. Ok, it's really not that limited, but I'm kind of getting tired of salads. Did you know that salads really take a lot of work to eat? I think my face is getting slimmer just from all of the chewing!
Fitting in the extra trips to grocery store for fresh produce is getting more and more difficult as different activities for the kids start.
Soy milk is not an exact substitute for regular milk in recipes. Let's just say that soy milk in a casserole is just odd. It wasn't exactly the worst thing I'd ever tasted; but it was darn close.
I miss chocolate…and cheese…not together, mind you…but I miss them both.
This week's observations:
Eating foods full of water like fruits and greens makes you pee a lot. I know, TMI. But my bladder must be squeaky clean.
Speaking of digestive stuff, I've had several people extol the virtues of a vegan diet because of how "free flowing" their digestive system becomes. Unless you're talking about an over-active bladder, I'm not seeing it. Then again, I didn't have any digestive issues before we made the change so I probably wouldn't notice anything different. I now, TMI again.
My skin has seriously improved. I have always had bad skin. No moisturizer on the market made a difference. My skin just didn't have any elasticity. My stomach looks like a road map from the stretch marks created by carrying three above average-sized babies. This is one area that I've definitely seen big changes.
It's been an interesting five weeks, that's for sure. School starts for Jared this week and so does co-op and 4-H. I miss the routine of the school year, but we have so much planned for the year that I'm not sure just how routine it's going to be!
Menu Plan for Week of 09/05/2011
Lunch
Lunch of the week – Salads, wraps or leftovers
Fruit of the week – Apples, bananas, melons, nectarines and peaches
Dinner
Monday – Baked potatoes, sautéed veggies, tossed salad
Wednesday – Vegetable soup, tossed salad
Thursday – Marinara over homemade pasta, tossed salad
Saturday – Bean enchiladas, tossed salad
Sunday – Bean patty pitas, steamed veggies
Thank you for stopping by!
Grace and peace be yours in abundance,
Betty