Wow! It's already September! When did that happen?? I think I said that the first week of September last year, too. Isn't it comforting to know that some things don't ever change?
Anyway, this summer has been crazy and wonderful. We didn't go zipping around, camping in different states in order to get Colleen to various speech competitions. This year, we stayed home. But it wasn't really the
lazy summer I had originally envisioned
.
This was the summer of home and garden projects.
Tom and Jared removed the sad, struggling tree from the front yard.
I added a two-layered decorative block retaining wall as the edger to the landscaping in the front of the house. I also added a small raised herb garden to the front of the house. And we mulched the front gardens and the butterfly garden in the back. Oh, and added a couple of plants to the butterfly garden, too.
A thick layer of newspaper to keep the weeds away.
Now a little mulch...with style!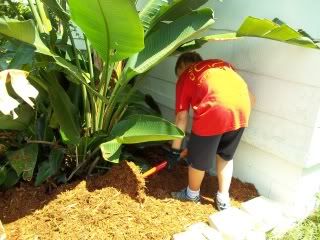 Jared gets the tough spots!
We need to plant a new, stronger and healthier tree in the front, but I haven't decided on what kind yet. In the meantime, I'm devising a plan on how to landscape the front of my house with herbs and vegetables. Yes, I live in a city that I risk being fined if I put in an actual vegetable garden in front of my house. What are "suitable" landscaping plants, and why does someone other than me, the owner of the home, get to decide the answer? My neighbors have "ornamental" sweet potato vines as a ground cover. I think I need to plant some real, productive sweet potato vines. No one will know the difference, except my table when I serve up some yummy, home-grown sweet potatoes. But I digress.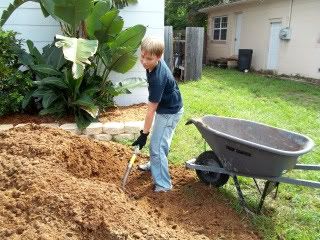 We found an amazing deal on a very nice tiller at a yard sale. The new-to-us tiller cost less than the motor would have cost to fix the broken, freecycled tiller we received a couple of years ago. So, the manure is all tilled in and the garden is ready for the fall planting. God is so cool!
I think he likes it!


Attilla and Hon...Corny, I know.
Isn't she pretty?
I've been
harvesting and freezing plenty of okra
for
gumbo
over the winter. I only planted about 10 plants in self-watering bucket, but they've been producing plenty of perfect pods. Did you know that okra is related to hibiscus? The pale yellow flowers with their dark purple centers are absolutely gorgeous! Maybe I'll landscape with okra next summer. Think anyone will notice?
Started about
100 seedlings
for the fall garden. I'm not sure just how it's all going to fit. The garden is only 20' by 30' after all. I guess we'll be planting a few things in those buckets when the okra is done. Oh, and half of the pepper plants will be beautifying the front garden, too. Yeah, we should be able to squeeze it all in, right?
Jared's and Colleen's rooms got facelifts over the summer, too. For the most part, all we did was paint the rooms, but each room took about 3 weeks to paint. When it comes to certain things, I'm a Go-Bold-or-Go-Home kind of person. So, we had to cover up very bold paint jobs before replacing them with new, very bold paint jobs. Both rooms needed 3 coats of primer before any color touched those walls.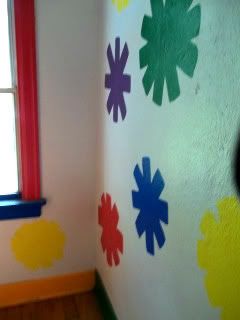 Like I said, Go Bold or Go Home!
Left my hubby alone with a can of primer for just a minute. I love my silly hubby!
Primer and base coat applied and extra protection on the windows and doors for the next step.
She's soooo helpful *insert sarcasm here*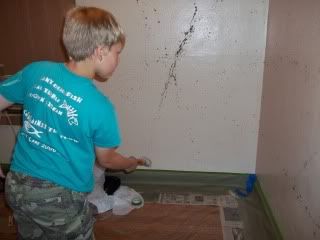 Jared throws the first pitch...er, I mean paint!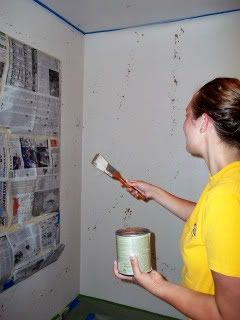 Everybody had their own color to throw.
It's kind of an updated version of camouflage
Like I said, Go Bold or Go Home!








Time to change Colleen's walls.
Primer covered Colleen's walls way better than Jared's.
Yep, the door has to go too!
Now that's how you dress up an Insane Asylum grey base coat!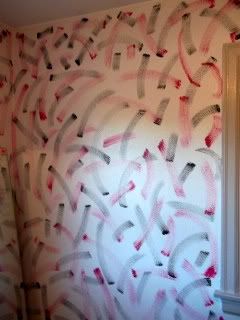 Colleen did all of the black and pink painting herself!
I think she had fun!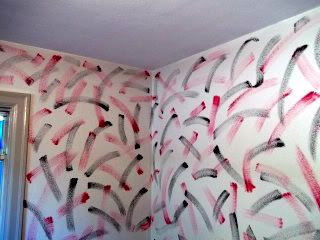 Like I said, Go Bold or Go Home!
On the plus side, it's been 10 years since these rooms were painted, and it'll probably 10 more before they're painted again.
In the middle of all of these ambitious projects, Colleen
graduated from high school
, worked a job, registered for college, went to
4-H Legislature
for a week in Tallahassee, was a Senior Counselor at 4-H Camp in Ocala for a week, spent a week at 4-H State Congress in Gainesville, finished 3 4-H projects, and earned her Gold Clover Award for 4-H. Did I mention that she also did most of the work on her room? Over-Achievers Anonymous calls my house regularly looking for my daughter.
Jared, on the other hand, is a lot more laid back. He went fishing.
Ok, maybe he did a little more than that. Jared completed 2 4-H projects, spent a week at 4-H camp in Ocala, earned his Silver Clover Award for 4-H, helped his mother tackle the crazy projects she foolishly crammed into the schedule, did a significant amount of the work on his room, and read about a million books. Alright, it wasn't a million. It just seemed like it! Every time I turned around, he had his nose in a book. Boy, we've come a long way from the early days when he struggled with every single letter and word. Right now, he's at the library shelving books. My children are weird.
Have I mentioned that I like that my children are weird? Weird is interesting. I like interesting.
We went
letterboxing
way more this summer than anyone should when the temperature and humidity are both at 98! We also traipsed around Busch Gardens a lot this summer, but at least we got to cool off on the water rides. Our Busch Gardens passes are one of those things we scrimp and pinch pennies in order to be able to keep. We really like Busch Gardens. Sometimes, we'll go just to see the shows and free concerts and the looks on people's faces when we picnic in the parking lot.
Colleen spoiled her little brother a bit this summer, too, with special outings to the mall, just the two of them, and long bike rides. They bicker and snipe at each other just like any other pair of siblings, but underneath it all, they really do love each other. I told you they were weird.
My hubby and I started a
Six-Week Vegan Challenge
in August and actually lost weight! Woohoo! Finally! You'll have to check out the August Menu Plan Mondays for the posts about the ups and downs of that journey and how much weight we've lost. We're still sticking to the strict challenge for a couple more weeks. Boy, have we learned a lot about healthy eating!
Last but not least, Colleen turned 18! I won't tell you how I feel about this, but for those of you with small children, know that all those temper tantrums, scraped knees, soccer games, girl scout meetings, 4-H activities, homework, chores, groundings, pony tails, braids, mother/daughter manicures, bedtime stories and good night kisses do nothing to prepare you for the moment you realize that your baby is an adult. Cherish every moment.
For her birthday, we gave Colleen her own laptop. Juggling computer time with her brother when she started college was going to be a bit difficult. So, we combined her graduation and birthday gift, and she has her own computer. And after she turned 18, she was actually allowed to have the computer in her room. We don't allow computers, televisions or video games in the kids' bedrooms. These thing stay in public areas of the house. So, for her to be allowed the computer in her room is a huge deal.
Like our classy wrapping? It's what's inside that counts, right?
See that writing? It doesn't actually tell her what's in the box.
She's just a little excited.
Facebook here I come!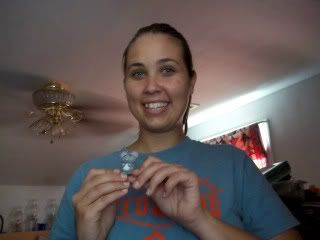 This is Squeak...her new jump stick. I got the cow.
Thanks for stopping by! That's about it for the summer highlights this year. We probably did a few more things, but I'm drawing a blank right now. How was your summer? Are you ready for fall and school and a regular routine? I am so ready for a routine. However, I'm afraid this school year will be anything but routine.
Grace and peace be yours in abundance,