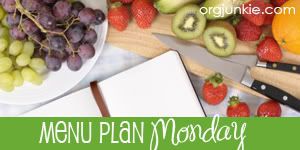 Since my hubby is taking me on an adventure for our anniversary today, I had to put the menu together over the weekend. However, we spent a large chunk of the weekend at the Hillsborough County Fair. If I'm in a big rush when I'm creating the menu, I end up missing schedule obstacles and changing the menu during the week. We'll see how this goes!
By the way, don't miss out on the
October Giveaway
, celebrating both my birthday and my anniversary. You get a chance to win a few of my favorite things.
Menu Plan for Week of 10/10/2011
Breakfast
Lunch
Lunch of the week – Salads, wraps or leftovers
Fruit of the week – Apples, bananas, and pears (the fruit selection will probably stay about the same now until March. The summer fruits are fading away…sigh.)
Dinner
Monday – Anniversary/birthday dinner at the Texas Cattle Company
Tuesday – Vegetarian chili and cornbread or baked potatoes (We didn't have this last week)
Wednesday – Veggie pitas, sautéed veggies (we'll see what's on sale and looking good this week)
Thursday – Vegetable stir fry over short grain brown rice, tossed salad (didn't have this last week either…what the heck did we eat??)
Friday – Chicken pot pie, tossed salad (Yeah, this too!)
Sunday – Vegetable soup
Thank you for stopping by!
Grace and peace be yours in abundance,
Betty