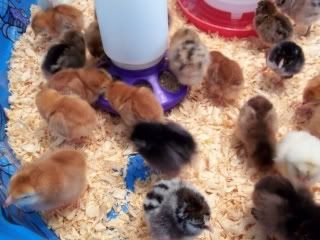 The Wyandottes are the black ones.
If you've ever had baby chicks around, you know that sometimes unpleasant things happen. One day everything seems fine and the next day, a chick dies. Sadly, all three of the Wyandotte chicks died last week. One minute, they were chirping away happily, and the next moment they were gone. How odd that out of a batch of 25 chicks, only the Wyandottes didn't make it.
Thankfully, the hatchery was fine with refunding my money for the three chicks, but I still wonder what happened. Illness would have hit the other breed, too. An injury would have only killed the injured chick. Having all three chicks of the same breed die is just odd.
Colleen took the loss in stride. She wants to be a vet someday, and I think she's already wrapped her mind and heart around the fact that sometimes an animal dies. She's chosen the Ameraucanas that she'll keep for her 4-H project and love them as much as she would have loved those Wyandottes.
During all of this, I realized that even though we live very farm-like lives, we're still city folk. The death of an animal is more of an everyday reality on a farm, but for urbanites, that reality is only faced occasionally when a beloved pet passes away. I cannot tell you how odd it still feels to lose an animal in my care. Since we started raising chickens about five or six years ago, we lost one hen to heat, one to a tumor, one chick to "too much love," and now three chicks to some mystery. I'm practical enough to be able to say, "It happens," but it's still hard.
Thanks for stopping by! Sorry about the sad post. I'll try to make it up to you with a laugh-out-loud Friday Funny tomorrow. In the mean time, check out my
giveaway
. That'll put a smile back on your face.
Grace and peace be yours in abundance,
Betty