Last week, I put up several pounds of carrots by freezing them. Although frozen veggies usually taste better than canned, the freezer can only hold so much, and I always keep in mind that a freezer full of food can go bad quickly if the power goes out. Ever since we lost power for five days during a particularly busy hurricane season, I make sure I put up plenty of jars that can sit on the shelf safely even if the lights go out.
Canning veggies is almost as easy as freezing them. You do need a pressure canner, though. Vegetables are low acid foods that need high temperatures for safe processing for long-term storage. A water bath canner heats the food to roughly the temperature of boiling water: 212°F. In high acid foods like pickles, the acidity of the vinegar kills a significant amount of bacteria and the boiling water is hot enough to kill the rest. A pressure canner reaches at least 240°F, plenty high enough to kill any nasty bacteria even in low-acid food.
If you don't have a pressure canner, borrow one from a friend until you can afford to purchase your own. I have never met anyone who owns and regularly uses a pressure canner who isn't willing to lend it out. In fact, she'll probably join you on canning day. Anyone who's canned a large amount of veggies before knows that many hands and lively conversation make for light work!
Carrots can be raw packed or hot packed, which means they can go into the jars hot or cold. However, the jars must be hot during packing!
Ingredients
Fresh whole carrots, 17-1/2 pounds for a canner load of 7 quarts or about 11 pounds for a canner load of 9 pints. Although this seems to be a standard quantity in the canning books I've read, I got 16 pints from 10 pounds of carrots.
Canning and pickling salt
Prepare jars, seals and rings.
Wash, peel, and rewash carrots. Slice or dice.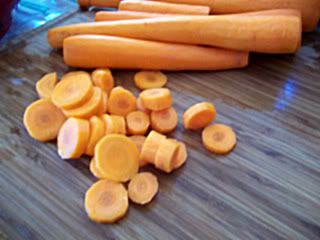 Hot pack
- Cover with boiling water; bring to boil and simmer for 5 minutes. Fill hot jars with carrots and hot cooking water, leaving 1-inch of headspace.
Raw pack
- Fill hot jars tightly with raw carrots, leaving 1-inch headspace.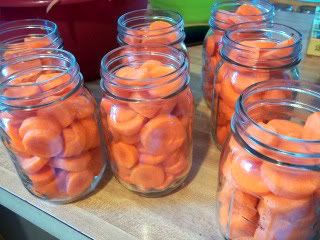 Add 1 teaspoon of salt per quart to the jar or ½ teaspoon per pint, if desired. The amount of salt in the recipe doesn't significantly help with preservation, but it does brings out the flavor of the carrots. If you're watching your salt intake, go ahead and skip it.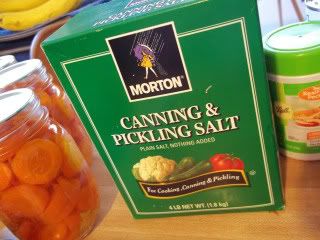 Add hot cooking liquid or water, leaving 1-inch headspace.
Remove air bubbles and adjust headspace if needed. Wipe rims of jars with a dampened clean paper towel. Adjust lids.
Process at 11 pounds of pressure for 25 minutes for pints and for 30 minutes for quarts. Cool completely, check for a proper seal, and store in a cool dark place.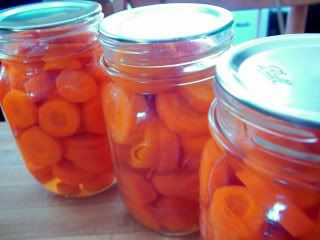 I used to keep the rings on my jars when I stored them. I have since realized why serious canners remove the rings for storage.
First, the only purpose the rings serve is to keep the seals on the jars tightly until the whole heating and cooling process is done and the jars are sealed. Once properly sealed, the jars will stay sealed even if the rings are removed.
Second, rings wear out and unless you can replace them regularly, you're eventually going to run out of rings if you keep them on the processed jars.
Since I keep running into good produce deals, I've been doing a lot of canning. Plus, I've recently cleaned out my ring bin and tossed any rusty rings. Imagine my surprise when I came up short on rings! I quickly raided a few from a batch of already processed jam.