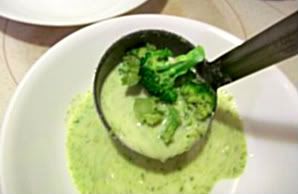 Every once in a while we end up with a lot of broccoli at one time, either from too many plants ripening at the same time or my favorite produce stand has a beautiful pile of broccoli for 2 head for a $1. How could I resist?!
Unfortunately, broccoli doesn't really keep for long periods, even in the fridge, and it doesn't can well either. Hubby isn't too keen on frozen broccoli, so I treated my family to a pot of cream of broccoli soup, which uses a lot of broccoli. I hope you and your family like this soup as much as we do!
4
cup
s broccoli flowerets
2 cups water
1
tablespoon
margarine or butter
1
tablespoon
all-purpose flour
1 teaspoon dried parsley
Place the broccoli and water in a medium saucepan and cook over medium-high heat until cooked through, about 10 minutes. Drain, reserving ½ cup of the cooking liquid. Measure out ½ cup of the broccoli. Set aside.
Melt the butter in a large pot over medium-high heat. Add celery and onions, sautéing over medium-high heat until the onions are transparent. Stir in the flour and cook for another minute. Carefully pour in the reserved broccoli liquid, stirring well. Add carrots. Simmer over medium-high heat until the carrots are cooked through, about 5 minutes.
Add the broccoli to the mixture in the pot except the reserved ½ cup. Carefully, pour in the milk. Heat slowly over low heat until the soup is heated through and starting to thicken. Blend the soup with an immersion blender or work in batches with a blender or food processor until creamy and pretty smooth. I don't go for perfectly smooth. My family likes the pieces of carrots and broccoli to nibble on. Stir in reserved broccoli, parsley, salt and pepper. Serve. Top with a sprinkling of shredded cheddar cheese, if desired.
Shared on:
Raising Homemaker's Homemaking Link-up
Women Living Well Wednesday Link Up Party
Lark's Country Heart Made it on Monday
We are THAT Family's Works for me Wednesday
GNOWFGLINS Simple Lives Thursday
Miz Helen's Country Cottage's Full Plate Thursday
A Wise Woman Builds Her Home