A couple of weeks ago I ran into an amazing deal on cabbage and picked up cabbage heads at a quarter a piece. Yes, that's a quarter a head not a quarter a pound. You know me and an amazing deal like that. I picked up 10 heads of cabbage and started looking for what to do with it.
Since I have a long list of Polish ancestors, it wasn't too difficult to find plenty of yummy cabbage dishes like halupki and halushki. I'd also been itching to try my hand at making sauerkraut, but I was content to wait until the garden produced the 25 pounds I needed.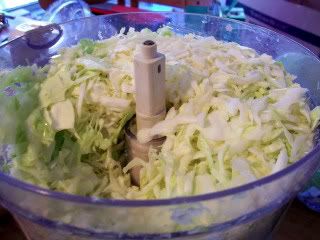 You can imagine that I made quick work of shredding, salting, and getting that cabbage ready for fermenting into sauerkraut.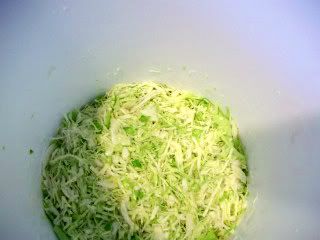 However, I didn't look very closely at the big picture here. Sauerkraut takes about 4 weeks to ferment and be ready for canning. I didn't realize until this week that canning day was also Thanksgiving dinner prep day. Yeah. That was not the best laid plan at all.
So, amid pies and potatoes, I canned 7 quarts of sauerkraut, which, by the way, came out great for my first time! My Babchi would have been so proud.
You don't get the recipe today, but you do get to have a good laugh at my poor planning. On the plus side, we'll have plenty of yummy sauerkraut for our New Year's Day kielbasi and sauerkraut.
Grace and peace be yours in abundance,