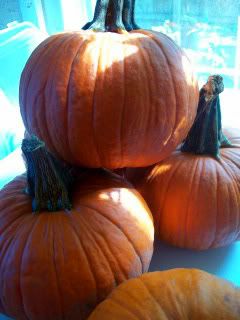 Although I'm not a fan of the color orange, I love seeing all the pumpkins everywhere throughout the fall holidays. I really love how the price of those pumpkins drops drastically after Halloween. Last week, we walked out of our favorite produce stand with a cartload of pie pumpkins that cost $1 a pumpkin. What a deal!
If you've followed me through the strawberry fields forever, the tomato obsession, the peach-a-palooza, and the mushroom mania, you know that my family and I spent several days learning how to use all those pumpkins.
For all that I love to cook and experiment in the kitchen, especially with holiday dishes, I have never used fresh pumpkin in anything. I knew it could be canned because a friend of mine canned all the pumpkins they used at a Halloween event a couple of years ago. However, I've never done it, and all of my pumpkin pies, pumpkin cookies, and pumpkin breads started with those classic orange cans of pumpkin purée lining the grocery shelves starting in October. When we started growing more and more produce and learning more about growing seasons, I realized that those cans were processed at least a year ago! So, it was time to learn how to put up fresh pumpkin and how to bake with it.
Today, I'm only going to tell you about turning that plump, orange pumpkin into a usable purée. It's a little more time consuming than just opening a can, but the results are so worth it. Canning pumpkin, on the other hand, is an all day labor of love that I'll share tomorrow.
By the way, pie pumpkins are different than those huge carving pumpkins. Not only are the walls of a pie pumpkin thicker, but the pumpkin meat itself is denser and sweeter than the stringy and grainy carving pumpkins. Can you cook a carving pumpkin? Probably, but you will probably be very disappointed with the results of your labor.
What you need:
A very sharp knife…or six
Sharp-edged spoon for scraping
The first time I cut into one of those pie pumpkins I was a little concerned. My knife got stuck in the pumpkin. Evidently, the pumpkin was the inspiration for self-sealing tires. You know the kind that immediately reseal themselves around a hole or leak. The pumpkin sucked in around that knife so fast that I used two other knives in jaws-of-life fashion to rescue the first knife. They all got stuck.
After a little trial and error, I finally found a way to press on the pumpkin to open the knife slit enough to pull the knives out and try again. I'm not going to lie to you. This part was tough. Not only are the walls of a pie pumpkin thicker than a carving pumpkin, but the rind is a lot tougher. By the time I finished quartering the first pumpkin, I was raiding my husband's tools in a desperate search for anything with a sharp blade and a powerful motor! Every kind of saw came to mind, but my dear hubby takes his tools with him every day. I used to believe that he took them with him because he needed them on the job, but I now realize that he hauls everything around so he doesn't have to pick pumpkin guts out of the teeth of his saw blades after his wife has one of her "brilliant" ideas. Right then and there my "brilliant" idea was that we needed a band saw. I don't actually know what a band saw is, but I hear people butcher deer with one so I knew it would work on pumpkins!
Anyway, after the initial quartering, the job did get much easier…probably because I pressed my son into service. No, really, once the pumpkin was in quarters, it really did get easier. Jared and I used spoons to scrape out all of the stringy innards and seeds until the pumpkin flesh was nice and clean.
Jared used his hands as only a 12-year-old boy would do!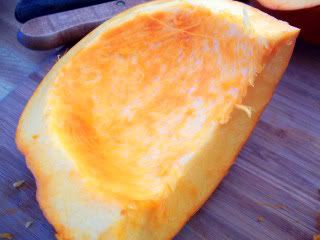 Almost clean. Those strings up at the top have to go!
At this point we moved on to peeling and cubing for canning. To use the pumpkin right away or to refrigerate or freeze the purée, all you have to do now is cook it. You can microwave it (not going to happen in this house), bake it, or steam it until the flesh is falling off the rind, which happens pretty quickly.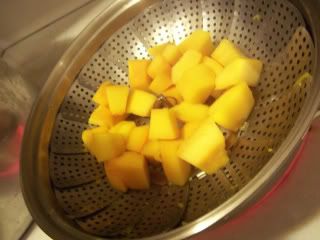 I had about a pound of cubed pumpkin leftover from canning that I tossed in a steamer basket and set over boiling water. It was ready for mashing in about 5 minutes. If you take the unpeeled quarters and place in a steamer basket over boiling water and cover. The edible meat will be falling off the rind in about 10 to 15 minutes minutes.
OR
Bake your quartered and cleaned pieces in a covered, oven-proof baking dish for 350°F oven for about 45 minutes.
OR
Microwave the pieces in a covered, microwave-safe dish with an inch or so of water for 15 minutes on high.
Do not boil your pumpkin in water to cook it. Your pumpkin purée will be watery and flavorless.
Once your pumpkin is cooked, it's time for puréeing. Scrape the cooked pumpkin meat from the rind and transfer it to a bowl or sturdy container.
A couple of months ago I found an immersion blender for $3 at Goodwill (Score!). I've come to truly appreciate how that little blender makes short work of puréeing a bowlful of just about anything. You can also use a blender, food processor or food mill. Use whatever you have that will turn that pumpkin into something that resembles baby food.
Do not add water! In fact, you'll need to let your purée sit for a few minutes as it drains off excess water. If you like, you can place the purée in a double layer of cheese cloth to drain or just pour off the water that accumulates around the bottom of the purée. The microwave method will have the most water to drain because it cooks with the water in the dish. The steamed cubes had about a tablespoon to pour off. I suspect that the baked version will have the most flavor because of the lack of water and well, that's just the nature of baking and roasting.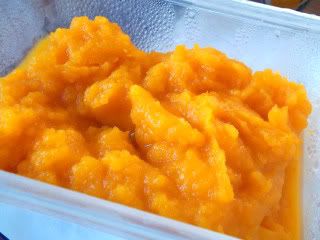 Anyway, now you have a dish of puréed pumpkin ready for your favorite pumpkin recipe. If you're not ready to use it, just pop it in the refrigerator for a couple of days or transfer it to a freezer-safe container or zipper-seal bag and store in the freezer for a month or so. Do not can it as a purée! Home canning and puréed food do not go well together! You cannot reach high enough temperatures for long enough at home to make this safe for canning! Please, don't even think of doing it! I'll cover safe canning of pumpkin in another post…this one's long enough already.
I road-tested my pumpkin in some pumpkin bread that received two-thumbs up from the whole family. Using the fresh pumpkin really did make a difference. The bread was very moist and so full of flavor! I can't wait to make a few pumpkin pies! I've never tried pumpkin soup before, but I think I might have to venture down that road, too, now that I have 24 quarts of canned pumpkin and three more pumpkins left to can! I told you we filled the cart!
3 cups sugar
1 cup cooking oil
4 eggs
1 1/3 cups all-purpose flour
2 cups whole wheat flour or fresh-milled flour
2 teaspoons baking soda
1 ½ teaspoons salt
1 teaspoon cinnamon
1 teaspoon ground nutmeg
2/3 cup water
1 ¾ cup puréed pumpkin
Preheat oven to 350°F. Grease the bottom and sides of two 9x5x3-inch loaf pans. Set aside.
In a large bowl, beat the sugar and oil together with an electric mixer. Add eggs and beat well. Set aside.
Combine the dry ingredient in a large bowl (that's the flours, baking soda, salt, cinnamon, and nutmeg). Alternately add flour mixture and water to the sugar mixture, beating on low after each addition just until combined. Beat in pumpkin. Spoon batter into prepared pans.
Bake at 350°F for 55 to 65 minutes or until a wooden toothpick inserted near the center comes out clean. Set the pans on a wire rack for 10 minutes. Remove the bread from the pans and cool completely on the wire racks. Slice and serve.
Tips:
For pumpkin bread with nuts, add ¾ cup of chopped walnuts or pecans into the batter after the pumpkin has been added.