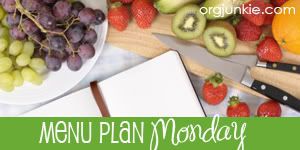 It's less than a week before Christmas, and my house is still in turmoil! Hubby made me a new set of shelves for my sewing area, doubling my shelf space. However, that meant the old shelves had to be emptied, the new shelve put in place, and everything put back.
Although this was truly a wonderful surprise, I still have jammies to finish sewing, a little more deep cleaning to do, a ton of beans to put up, and the decoration boxes are still in our living room! My goodness, it really has been non-stop around here since October!
Anyway, I pray that you have a spectacular week before Christmas, filled with the tying up of loose ends and little details so that come Christmas Eve and Christmas Day you can relax and focus on celebrating the birth of Jesus.
Menu Plan for Week of 12/19/2011
Lunch
Lunch of the week – Salads, wraps or leftovers
Fruit of the week – Apples, bananas, and pears (the fruit selection will probably stay about the same now until March. No more summer fruits…sigh.)
Dinner
Monday – Broccoli soup, salad, artisan bread
Tuesday – Big salad, artisan bread
Wednesday – Buffalo chicken wraps, salad
Thursday – Spaghetti, salad
Friday – Pizza (4H Club Christmas Party)
Saturday – Chinese take out! It's tradition!
Sunday – Ham, kielbasa and sauerkraut, mashed potatoes, sweet potatoes, turnips, green beans, broccoli, salad, rolls
Thank you for stopping by! Can you tell the weatherman is predicting a cold snap this week? I just love a nice, hearty soup when it gets cold!
Grace and peace be yours in abundance,
Betty