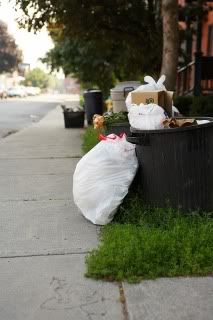 Did you know that the average American creates over 4 pounds of waste a day? And did you know that the average American has no idea how to dispose of those 4 pounds of waste properly? Even though I'm pretty careful about recycling and composting and taking hazardous material to the right places, I recently did some research on household waste disposal, and I realized I had a lot more to learn.
Compost
Leftover food in your garbage is actually a problem for the landfills. When food decomposes it gets hot. I mean, really hot. Adding coffee grounds to the mix gets it even hotter. That heat is capable of initiating chemical reactions in non-food garbage in the pile at the landfill. That would be the best scenario because in the end the food actually decomposes. Unfortunately, most landfills are dense, compacted masses without air flow. No oxygen means no composting. Last year's Thanksgiving leftovers could still be sitting there! Starting a compost pile of your own keeps the food out of the landfill and produces organic fertilizer for you. Compost isn't just for vegetable gardens, by the way. Your lawn and landscape plants need nutrients, too, and compost adds organic material into the soil that helps with water retention.
Recycling
If you don't have curbside recycling in your area, find a recycling center and lobby local officials to make the curbside recycling available. Glass, plastic, and metals don't decompose. Often they simply leach unwanted chemicals into the soil and into the water table. Keep them out of your landfill.
If your recycling bin is overflowing every couple of days, take a look at what's in it. Evidently, there is a weight-loss show out there that all of the food a person has eaten in a week is piled on the table in front of them as a reality check. Think of your recycling bin as that same reality check. What are you spending your money on and what are you eating? Is your bin filled with water bottles? Well, cut it out! Get yourself a refillable bottle and stop being wasteful. Is it filled with ice cream containers and boxes from processed and quick-to-fix foods? Well, cut it out. Those boxes might break down great in the compost, but the food that was in them doesn't break down real well in you! Get a healthy diet and get a lot less wasted packaging.
Yard Debris
Toss grass clippings and leaves into the composter or use it as mulch under large landscape plants and trees. If you have a chipper shredder, mulch those large branches and debris from pruning trees and trimming hedges. Don't have a chipper shredder and don't want to rent one? Look for a brush site in your area that mulches large yard debris for use in public areas like parks and government building landscaping or given away free to residents. Although large branches do eventually decompose naturally, they take a very long time. Turning them into mulch speeds up the process and helps gardens and landscaping to retain water and prevent weeds.
Batteries, Electronics, and Fluorescent Light Bulbs
Batteries, electronics and fluorescent light bulbs all contain hazardous materials that leach into the soil or run off into the water supply. Many home improvement stores and office supply stores have started "take back" programs that allow you to bring in your old batteries, electronics, fluorescent light bulbs and even print cartridges for safe disposal. Keep an eye out for more of the programs starting in the future.
Medicines
Most of us have been taught to flush expired medications down the toilet. That is a very, very bad idea. Can you imagine the chemical reactions and contamination occurring from a multitude of miscellaneous medications mixing and morphing in the sewers? If you wouldn't mix it in your kitchen sink, don't mix it the sewers.
More Hazardous Junk
Car maintenance items like old oil from your last oil change, dead car batteries and used filters also leach bad stuff into the environment if not taken care of properly. Leftover paint from your latest home redecorating project is also hazardous to the environment. The best option for disposal of paint is to use it all or pass it along to someone who will. If no one wants your what-were-you-thinking-putting-that-on-the-kitchen-walls neon orange latex or acrylic paint, let the paint dry in the can before disposing of it. Oil paint must be disposed of at a hazardous waste site. If you don't know where these items belong, call your city's waste management office. Many offer pick-up for these items. If not, they'll have a list of places for drop off.
Disposing of household waste safely and properly is a bit more work than you probably thought. Drop this off here, drop that off there, and so on. However, making these drop-offs a part of your normal errand day will make this a lot easier, and someday your children and grandchildren be able to toast you with a tall glass of clean drinking water.