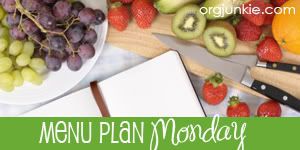 This week I'll be finishing up organizing the craft and storage cubby. Instead of emptying the cubby into my bedroom and trying desperately to sift through, sort, and return everything in a single day, we opted to empty everything into the living room. The extra time and elbow room was definitely appreciated!
I cleaned up a huge chunk last week, but normal activities of daily living don't stop just because I have something else I'd rather be doing. Everyone still needs clean clothes and regular meals. Go figure.
Hopefully, I'll get the last of it sorted and put away early this week, so I can put in a little time on the scrap quilt. The top is pieced, but I still have to baste the backing, batting, and top together, machine quilt the whole thing, and then add the binding. My goal is to finish it by my hubby's birthday in February. Pray!
Anyway, most of the veggies on the menu this week will be from the garden or from jars I put up over the last couple of months. I love the convenience of grocery shopping from the garden and the pantry!
Menu Plan for Week of 01/23/2011
Lunch
Lunch of the week – Salads, wraps or leftovers
Fruit of the week – Apples, bananas, oranges, and pears
Dinner
Tuesday – Halupki (stuffed cabbage rolls), smashed taters and turnips, veggies, salad
Thursday – Cooking Lesson Unit Test: Spaghetti, including homemade pasta, salad (Jared will be entirely on his own this week. He's oddly excited about it!)
Saturday – Roast chicken, mashed sweet potatoes, veggies, salad
Thank you for stopping by!
Grace and peace be yours in abundance,
Betty