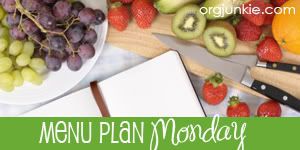 I managed to reclaim the living room last week in time for the 4-H meeting, but I didn't get to work on the quilt. This week is looking much more promising, though. This week is kind of the calm before the storm. This is our final week of preparation before the Florida State Fair opens on February 9th.
Thankfully, we only have two bunnies to prep for the fair this week, and since their tattoos and nails look good, all we have to do is keep them clean. All Jared has to do is study for his Skill-a-thon test, practice his showmanship, and create a poster. Ok, maybe we aren't as ready as I though we were!
Also, along with the usual homemaking fun, I'm working on a series of Urban Farming e-books. Yeah, my days are pretty full, but it keeps me out of trouble.
I pray that you have a wonderful, productive, and full week ahead!
Menu Plan for Week of 01/30/2011
Breakfast
Lunch
Lunch of the week – Salads, wraps or leftovers
Fruit of the week – Apples, bananas, oranges, and pears
Dinner
Tuesday – Grilled chicken breast, turnip and potato pancakes, salad (you'll be seeing a lot of turnips for the next couple of weeks as they ripen in the garden)
Thursday – Jared's Cooking Lesson: Chicken noodle soup (his choice)
Friday – Chili, cornbread, salad (The new semester starts at co-op. Time to pull out the slow cooker on Fridays!)
Saturday – Sloppy Joes, salad
Sunday – Roast chicken, mashed sweet potatoes, roasted Brussels sprouts, salad (a few Brussels sprouts from the garden are ready for eating. Yay!)
Thank you for stopping by!
Grace and peace be yours in abundance,
Betty