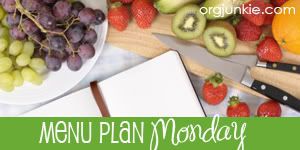 Last week's cooking lesson went very well. I was really happy with Jared's enthusiasm! This week, he's making the same recipe, only he'll be doing more of the work, and I'll be guiding him along the way. The only oops in the whole process was that I never wrote down the recipe. Jared did well with my verbal instructions, but by his next lesson, on Thursday, I'll have a printed copy of the recipe ready for him.
I have to say, the boy does like to cook. In fact, he's pretty excited about eventually having his own designated night in the kitchen to create culinary masterpieces. I think it might have something to do with the fact that the boy likes to eat!
Well, I only have a few minutes to toss together the menu and get back into the kitchen. We picked about 280 pounds of tomatoes at a local farm this weekend and even with my hubby's wonderful help, we've only managed to process about half of them! Did you know that tomato sauce, ketchup, and BBQ sauce take a very long time to thicken?! Ok, that might be because I'm seriously paranoid about scorching and keep the heat a little lower. Oh, well. At least the house is staying warm with all the canning!
Menu Plan for Week of 01/09/2011
Breakfast
Lunch
Lunch of the week – Salads, wraps or leftovers
Fruit of the week – Apples, bananas, oranges, and pears
Dinner
Wednesday – Roast chicken, herbed brown rice, veggies
Thursday – Cooking Lesson: Spaghetti, including homemade pasta, salad
Friday – Chicken pot pie, veggies, salad
Saturday – Chicken endive soup, salad, bread
Thank you for stopping by!
Grace and peace be yours in abundance,
Betty