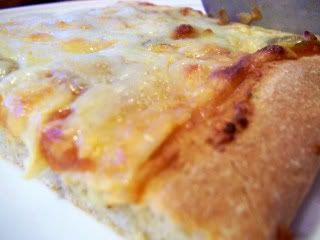 I used to do homemade pizzas and gave up as it was too time consuming... you may have just sparked new energy for me as I'm thinking I may have to try it again! Thanks for sharing your menu!
Cristi, I feel your pain! Although making
homemade pizza
isn't really difficult, it is time consuming. You are basically making bread from scratch and then adding even more steps with the toppings. In order to have the pizza ready in a timely manner I pretty much have to start by two o'clock in the afternoon!
Do you have any idea how many times I've wanted to reach for the phone and call for delivery?!!
Unfortunately, my spoiled family turns their noses up at most non-homemade pizzas these days. Even our favorite pizza place tasted like cheese-covered cardboard the last time we ordered.
So, how do I satisfy my family's love for pizza even though we have a very full schedule??
The simple answer eluded me for years until I made too many crusts for our 4-H Christmas party. I wrapped each baked crust individually in a double layer of tinfoil and placed them in the freezer. Then I scooped the leftover sauce into small freezer containers, freezing just enough in each container for a single pizza.
The next time pizza landed on the menu, all I had to do was pull out a crust and a container of sauce in the morning. Then, at dinner time, spread the sauce, top with cheese and other toppings, and bake for about 15 minutes! Brilliant!
I can definitely see me baking up 4 to 6 crusts at a time and freezing them from now on, along with a batch of sauce!
By the way, I usually make Sicilian pizza, which is a square cut, thick crust pizza. Whether you make a thin or thick crust pizza, I recommend that you make square crusts that will store in your freezer better.
Also, if you use tinfoil, remember that tinfoil is recyclable! I only used tinfoil because I was out of freezer paper. I'll have freezer paper on hand before I make the next batch.
Thanks for stopping by! I just love pizza, but I don't always have the time to make it from scratch. I am so grateful to have stumbled across this shortcut! Got a good shortcut? I'd love to hear about it and share it with my visitors!
Grace and peace be yours in abundance,