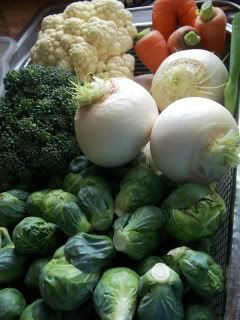 Forget horses, snakes, and tigers. This is the Year of the Cruciferae for us! Our cruciferous plants have done amazingly well in the garden this year.
Cruciferous plants, by the way, are those yummy crunchy vegetables with a distinct flavor or bite like broccoli, cauliflower, turnips, cabbage, and Brussels Sprouts. These veggies like cooler temperatures and tend to bolt (go to seed) if those cool temperatures are followed by a warm spell. I expected my way-too-many rows of Cruciferae to flower at any moment because of the unseasonably warm weather we've been enjoying. Thankfully, we only lost a couple of heads of broccoli, so far.
New cruciferous plants for us this year are cabbage and Brussels sprouts. My Polish roots have been missing more cabbage and sauerkraut on the menu. The Brussels sprouts were an experiment. I like Brussels sprouts, and when I started roasting them, my family started liking them, too. Unfortunately, they can be quite pricey in the store. Now I know why!
Like their brothers and sisters in the cruciferous family, Brussels sprouts like cool weather. However, they like it for a lot longer than their siblings! Cabbage, broccoli and cauliflower are ready to harvest in 70 to 90 days. Brussels sprouts take about 120 days to harvest. That's 120 cool days. Not cold days. Not warm days. Cool days. You might get that many perfect temperature days in a Saskatchewan summer, but here in tropical Florida the only "c" word used to describe our weather is caliente!
Anyway, I am pleased to report that our experiment was a success and we have Brussels sprouts. I had no idea how many Brussels sprouts to expect form a single plant, and I knew I could freeze or pickle any extras, so I planted 15 plants in the main garden, and Jared planted 4 in his section of the garden.
I'm so glad my family now likes Brussels sprouts. We recently harvested about 4 or 5 meals worth of Brussels sprouts from just three plants! Here's a little hint if you're growing them and want the entire stalk to ripen at the same time. When the bottom sprouts are about 1/2'" round, break off the small center leaves at the top. This worked very well, and Jared was able to harvest an entire plant all at once!
I'm certain I'll be freezing quite a few to enjoy later on, but until then, we'll be enjoying them at dinner at least once a week. If you don't think you're a fan of Brussels sprouts, try roasting them. Roasting really mellows the flavor. Try my
Roasted Vegetable Medley
recipe, cutting the recipe down a bit in order to use just Brussels sprouts, or try this
Roasted Brussels with Balsamic and Cranberries
from Pioneer woman. Last but not least, you can always try this recipe I found in the newspaper the other day. It has bacon in it. You can't go wrong with bacon! No, it's not the healthiest meat, but in this recipe it's more like a seasoning. Enjoy!
Roasted Brussels Sprouts with Bacon
1 pound Brussels sprouts
5 slices thick-cut bacon, cut into pieces
2 tablespoons olive oil
1 tablespoons butter
Salt and pepper to taste
Preheat oven to 400°F.
Wash Brussels sprouts. Trim off ends. Cut larger sprouts in half. Set aside.
Heat one tablespoon of olive oil in a large skillet over medium –high heat. Cook the bacon until crisp. Remove the bacon from the pan with a slotted spoon and place on a paper-towel-lined plate to drain.
Add remaining tablespoon of olive oil and butter to the pan. After the butter has melted, add the sprouts and cook for 3 minutes, just until the sprouts have started to brown. Add the bacon back to the pas and toss gently. Season to taste with salt and pepper.
Spread the sprouts and bacon in a 9"x13" baking pan. Roast in the preheated oven for 15 minutes, or until the sprouts are fork-tender. Remove from the oven and serve. Makes 4 servings.