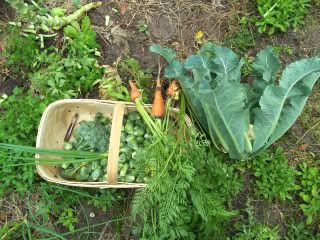 This is my favorite part of growing a vegetable garden: harvesting! The menu plan often looks so odd because we eat what's ripe. Sometimes the menu has to change because too much cauliflower ripened at the same time or not enough carrots were ready.
Finding creative ways to prepare everything is often a challenge. I can't always make the time to search for new recipes to try so I recycle old favorites. Mashed potatoes becomes mashed potatoes and turnips. Cream of cauliflower soup tastes wonderful with a couple of turnips and a potato added to the mix. And just about anything can be roasted and tossed with roasted garlic and olive oil.
I'm grateful my family doesn't mind being human guinea pigs. Most of the time, my odd creations are edible, except maybe that turnip-potato pancake disaster. The first bite wasn't bad but the after taste was killer! Note to self: cook the turnips first.
I'm also grateful that my family love simplicity. No heavy sauces hiding those veggies for my family. They prefer the taste of the vegetables instead of the heavy taste of rich cream or cheese sauces.
Isn't that why we started growing vegetables in the first place: to enjoy the taste of fresh vegetables that didn't travel in the back of a truck for three days before landing on the store shelf, continuously losing flavor until I unsuspectingly reached in and snagged some flavorless wonder to serve up to my family and call it healthy.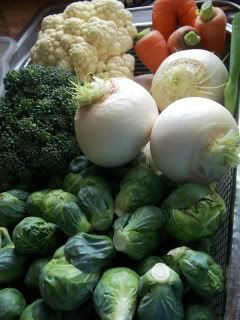 When I looked in the harvest basket this week, I smiled, knowing that every bit of dirt caked under my nails from weeding, every drop of odoriferous compost tea I spilled on my garden shoes, and every bead of sweat that poured from my skin while tending my garden was so worth the temporary discomfort. This was our first year of being completely chemical free in the garden, and the vegetables are amazing. Now, if I could just find a few more interesting turnip and cabbage recipes, it'd be the perfect garden season!
Thanks for stopping by and tolerating my whimsical ramblings! Most of you are still planning your spring garden and ordering your seeds while I'm going on about harvesting my garden in February. I still have a month or two of good growing weather left, just enough time to replace my harvested plants with a few peas and green beans. I guess it's time to fire up the canner!
Grace and peace be yours in abundance,