Whenever we are out and about for the day, I always make sure we have an on-the-go lunch and dinner plan. While I don't mind an occasional spicy chicken sandwich from Chic-fil-a, our budget and our bodies couldn't handle a steady diet of fast food.
Sometimes our quickie lunch consists of peanut butter and jelly or cream cheese and jam sandwiches, some carrot and celery sticks, and a couple of pieces of fruit enjoyed off the tailgate of the truck. However, for those very full days at the fair, I wanted to pack something more substantial, like grilled chicken breast sandwiches and macaroni salad, but it's a little tough to make that macaroni salad without mayonnaise. Ok, I had about a tablespoon of salad-dressing-type mayo hanging out at the back of the refrigerator for who knows how long. The fact that it was still perfectly fine should have been a clue that we shouldn't be eating that stuff. Shouldn't mayonnaise go bad at some point?? Haven't we all heard the horror stories about potato salad going bad and crippling an entire picnic with food poisoning? Yet, this stuff was fine after months in the refrigerator. Scary. Even scarier is
The Miracle Whip Experiment
at
Everything Home with Carol
. Evidently, Carol left her salad-dressing-type mayonnaise on the counter for a month…and it was still perfectly fine!
Anyway, I was still facing mayo-less macaroni salad and no desire to run to the store. I also know that it is possible to make my own mayonnaise. I'd been putting it off forever. I can be such a coward sometimes. But I still needed mayonnaise! So, I opened up my Great Big Book of Everything (aka, my Better homes and Garden Cook Book), and found a mayonnaise recipe. The recipe called for egg substitute and a very high ratio of oil to egg product. I replaced the egg product with real eggs and in about 10 minutes I made mayonnaise...and it was terrible! Way too much oil!
Thankfully, I had just seen a link to a mayo recipe on one of my favorite link-ups. Chara over at
Stitching Hearts Together
posted her recipe along with some variations. I was back in the kitchen for one more try. Ten minutes later, I had mayonnaise…and it was good! It was VERY good! My family loved the macaroni salad and the chicken salad I made later in the week. I don't think I'll be buying mayo ever again.
1 egg
1/4 tsp salt
1 cup oil

Combine the egg and salt and mix well.

Add oil in a slow steady stream while mixing at a high speed. This step should take at least 5 minutes if you are pouring the oil slowing. At some point, the oil and egg combination emulsify, and you have thick and creamy mayonnaise.
Tips:
I made this mayonnaise once with my mixer and once with an immersion blender and a wide-mouth quart-sized jar. I loved the jar method! Mixing and storing in the same container? Perfect!
The first time, I kept the recipe simple and added extra spices to my salad instead of to the mayonnaise. However, you can add some zip to your mayo with any of these optional ingredients:
1 tablespoon vinegar (any flavor)
1 tablespoon lemon juice
1 teaspoon dry mustard
1 teaspoon chili powder
A little yellow or Dijon mustard
The possibilities go on and on! I added raspberry infused vinegar and dry mustard to the batch I used for chicken salad. So good!
Use a good quality oil that hasn't turned rancid. You'll know by the smell. Extra virgin olive oil, grapeseed oil, coconut oil and even plain old vegetable oil can produce a good mayonnaise. Take a tip from
Chara
and mix your oils for some different flavors.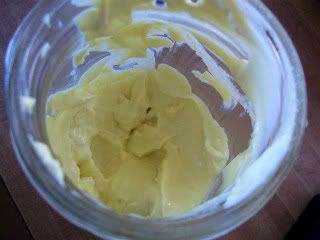 Thanks for stopping by! I hope you try this recipe and not be a coward like me. If you use a lot of mayonnaise in your cooking, you'll definitely love this recipe. If you don't use a lot, then you'll really love that you don't have to make a lot at a time. Enjoy, and tell me how it turns out!
Grace and peace be yours in abundance,