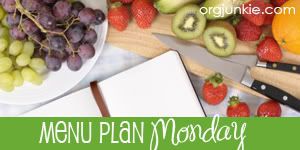 So many veggies are ready to be picked in my garden again this week. It looks like another veggie-heavy week. I don't mind, that's for sure. Although, I am running out of healthy but interesting recipes and ideas. Nobody's tired roasted vegetable medley and salads yet, so I still have options.
I pray you have a blessed week with less stress because you created a menu plan!
Menu Plan for Week of 02/27/2012
Lunch
Lunch of the week – Salads, wraps or leftovers
Fruit of the week – Apples, bananas, and oranges
Dinner
Monday – Roast Chicken, mashed turnips and taters, steamed veggies, cauliflower
Wednesday – Halupki, salad
Thursday – Jared's Cooking Lesson: Baked macaroni and cheese, herbed tomatoes, salad
Friday – Chili, cornbread, salad
Saturday – Cabbage Soup
Sunday – Leftovers and salads
Thank you for stopping by!
Grace and peace be yours in abundance,
Betty