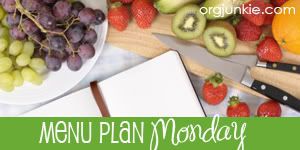 How do you plan your menu each week? Do you choose seven meals and decide each day which one you're going to make? Are you a monthly planner? Or do you have to plan each day very carefully because your schedule is so full?
Around here, each day brings something different. Work schedules, co-ops, 4-H, church, and school create an odd schedule of long days here and short days there and on-the-go days in between. I have to be careful what types of meals I choose each day, or we're eating dinner at nine o'clock at night…which has happened!
How do you plan your menu? I'd love to read your comments!
I pray you have a blessed week with less stress because you created a menu plan!
Menu Plan for Week of 03/12/2012
Lunch
Lunch of the week – Salads, wraps or leftovers
Fruit of the week – Apples, bananas, oranges, and strawberries
Dinner
Monday – Roasted chicken, smashed whites, salad
Tuesday – Big salads, artisan bread
Wednesday – Homemade Pizza, salad
Thursday – Jared's Cooking Lesson: Baked macaroni and cheese, herbed tomatoes, salad (He's completely on his own this week!)
Friday – Taco Salad
Saturday – Mother/Daughter and Father/Son day! Colleen and I are heading out for a knitting class, manicures, a few laps around the mall, and the boys are going fishing. Yes, we are actually eating out!
Sunday – Corned Beef and Cabbage
Thank you for stopping by!
Grace and peace be yours in abundance,
Betty