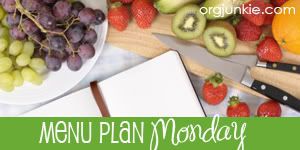 I've been missing little things on the calendar lately, which has made my menu planning a little chaotic. I keep having to shuffle the menu a bit each week, but I'm grateful that I have a menu to shuffle. At least I know that if I move a meal or two to different days, I already have all the ingredients!
Do forgotten appointments or last minute changes send you to the fast food drive-thru or the grocery store deli for dinner? I used to do that, too! I put on thirty pounds in six months doing that. Stop it!
Dinner doesn't have to be complicated. It never has to be complicated. It just has to be edible. Healthy would be good, too. Thankfully, healthy is actually simple. A salad can be a full meal. Add a sandwich and you definitely have a full meal. So many soups and pasta dishes take thirty minutes or less to prepare. You can feed your family and yourself a good dinner without convenience foods in spite of a busy schedule.
Have you read my menu lately? It's about as simple as you can get! Between our various activities and the writing projects I've been working on lately, we don't have the time or the motivation for complicated. Keep it simple when you have to. Make it complicated when you can. No one is going to starve.
I pray you have a blessed week with less stress because you created a menu plan!
Menu Plan for Week of 03/19/2012
Breakfast
Lunch
Lunch of the week – Salads, wraps or leftovers
Fruit of the week – Apples, bananas, oranges, and strawberries
Dinner
Monday – Taco salad (This has been on the menu for three weeks, and I still haven't served it!)
Tuesday – Big salads, artisan bread (Always the perfect dinner for grocery shopping day)
Wednesday – Teriyaki pineapple chicken meatball wraps, marinated cucumber and tomato salad
Thursday – Jared's Cooking Lesson: Homemade pizza
Friday – Leftovers
Saturday – Chili, cornbread, salad
Sunday – Roast chicken, smashed whites, salad
Thank you for stopping by!
Grace and peace be yours in abundance,
Betty