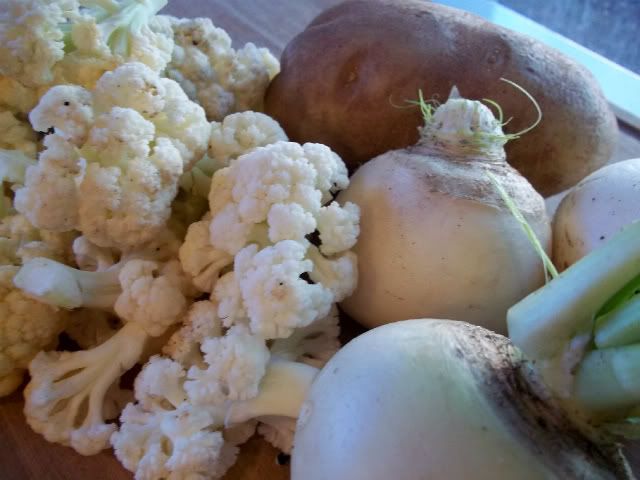 When a large portion of your groceries come from your garden, you really do start to feel like a contestant on Iron Chef and the secret ingredient is whatever is ripe this week. However, instead of trying to make a name for yourself as an amazingly creative chef, your real objective is to find ways to serve the same vegetable to your family three times in a week without having to duck after you place it on the table. This is how the dish Smashed Whites was created.
Smashed Whites are really nothing more than potatoes, cauliflower, and turnips mashed together with a little butter and milk. However, we found that this simple way to use up veggies that all ripen at the same time is pretty tasty and easy to dress up with a topping now and then.
1 medium potato, peeled and cut into large pieces
3 medium turnips, peeled and cut into large pieces
1 head cauliflower, cut into large pieces
1 tablespoon butter
¼ cup milk
1 teaspoon dried parsley (optional)
Salt and pepper to taste
Place potato and turnip chunks into a pot of water and bring to a boil over high heat. Reduce heat and boil for 5 minutes. Add cauliflower pieces and continue boiling until all vegetables are fork tender, about 5 to 7 minutes. Drain.
Return drained vegetables to the pot and place over low heat to remove excess moisture. Smash vegetables with a potato masher until desired consistency. Turnips tend to release a lot of water at this stage. Keep heating and stirring to cook off any excess water. Add butter, milk, parsley, salt and pepper, stirring until butter melts. Remove from heat and let stand for 5 minutes. Serve. Top with diced scallions, a sprinkling of cheese, chives, bacon, or just a little lemon pepper. Makes 4 servings.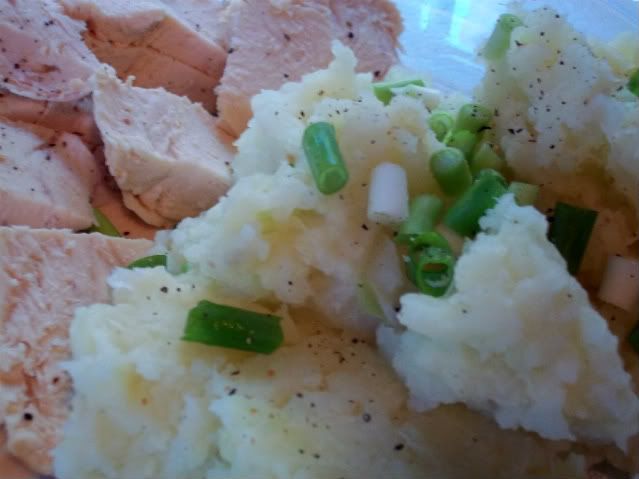 Thanks for stopping by! Don't you just love an easy recipe? Me too. What kinds of interesting recipes have you created out of what's on hand? Please, share!
Grace and peace be yours in abundance,