One way that my family and I try to combat rising food prices is to grow our own fruits and vegetables. However, living in an urban area, even with an above average backyard, we have space limitations preventing us from growing everything we need throughout the year. We're getting closer, but for the most part, what we grow in the garden is enough to eat in season but not enough to put up for the off season.
Praise God for local produce stands, farmers' markets, and U-Pick farms!
Over the years, I've discovered that hands down my local produce stands, farmers' markets, and U-Pick farms beat supermarket prices for fresh fruits and vegetables by a very large margin. However, you have to be smart about your shopping. For the sake of both your budget and your health, dinner should revolve more around what is available rather than what you want. Let me explain.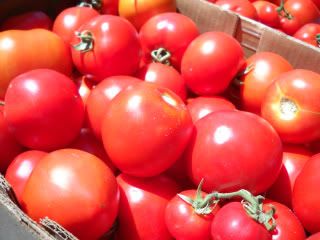 Depending on the fruit or vegetable, the time between ripe and spoiled can be relatively short. If the food spoils, it can't be sold. So, during harvest time, when fruits and vegetables are plentiful, farmers drop their prices in order to move as much produce as possible. However, when your local area is not in its growing and harvesting seasons such as the dead of winter in Pennsylvania or the middle of the hot summer in Florida, produce is shipped from not so local farms. That shipping and the decreased availability of local produce impact the price of your produce in a not-so-good-for-your-wallet kind of way. Strawberries shipped from California to Florida usually cost $2.50 to $5.00 for a quart. This year, locally grown Florida strawberries hit the produce stands at 99-cents for a quart. What a difference!
You can save even more money at
U-Pick farms
. Towards the end of the season, many farms open their fields to the public. All you have to do is walk around picking the ripe produce at significant savings to you. Why is it so cheap? Many times growing season overlap. Here, the end of strawberry season overlaps with the beginning of cantaloupe and tomato season. Workers can begin turning one field over to the new crop while
U-Pick
customers clean the last of the harvest from the other fields. Our favorite U-Pick Tomato farm turned to U-Pick because they couldn't find workers willing to pick for what they could afford to pay and still be able to charge a marketable price for their tomatoes. Their U-Pick price? Twenty-five pounds of tomatoes for $3.
Did you know that produce loses some of its nutritional value in shipping? Let me let
Eating Well Magazine
answer this one. "Fruits and vegetables destined to be shipped to the fresh-produce aisles around the country typically are picked before they are ripe, which gives them less time to develop a full spectrum of vitamins and minerals. Outward signs of ripening may still occur, but these vegetables will never have the same nutritive value as if they had been allowed to fully ripen on the vine. In addition, during the long haul from farm to fork, fresh fruits and vegetables are exposed to lots of heat and light, which degrade some nutrients, especially delicate vitamins like C and the B vitamin thiamin."
If you want to save money on produce and gain the most nutrition you can from your produce, then buy local, buy in season, and buy extra to put up for the off season. Although that sounds so simple, I know just how difficult it is when you are hungry for something or need that one special ingredient for a new recipe and there it sits, out of season and ridiculously priced after a 1500-mile trek across the country and now within your reach at your local supermarket.
Applying the simple concept of buying locally and buying in season takes quite a bit of re-training of our drive-thru mentality. You're probably not consciously thinking, "I want what I want, when I want it." I know I never said those words out loud! But thanks to Madison Avenue singing the praises of "Having it your way," we act on those words. We justify our actions with things like, "I need it for this new recipe I'm trying." Change the recipe or try it when the ingredients are in season. "That would taste so good right now." No, it won't. That piece of fruit or that vegetable just traveled across the country, ripening in the back of a truck. Do you really think it's going to have much flavor at all, let alone actually taste good?!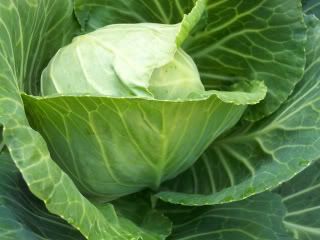 For us, growing a vegetable garden really helped to retrain our thinking on food. When you have five heads of cabbage sitting on the counter that you put quite a bit of time and effort into growing, you're not in a big hurry to let them go to waste. Just last night, I practically tripled the amount of cabbage in one of our favorite dishes so the last three heads wouldn't go to waste. Granted, around here, bad produce doesn't go to waste, it goes to the chickens or the worms, but I'd rather give it to my family first.
By the way, my family loved the extra cabbage in the dish. More cabbage meant less pasta. So, we enjoyed more vegetables and fewer carbs. Win-win!
Thanks for stopping by! I pray that if you are not already buying locally and in season and putting up extra for the off season, that I've given you something to think about. As gas prices continue to rise, so will the prices of your travelling out-of-season produce. And get some seeds in the ground! Grow something! You'll love it!
Grace and peace be yours in abundance,