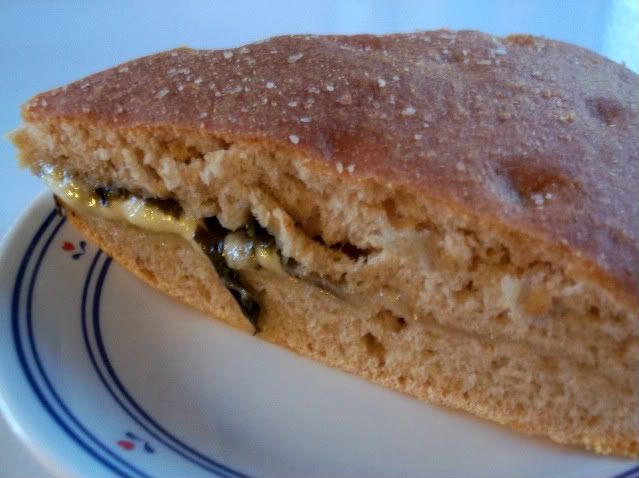 I used to make this stuffed foccacia every time we had salad with dinner. Unfortunately, it's a bit time consuming to make, and the quick and easy artisan bread took its place. The other day, I decided to dust off the recipe and boy, was my family happy! Enjoy!
Foccacia Stuffed with Spinach, Provolone, and Basil
1 ¼ cup warm water
1 ½ teaspoon salt
3 tablespoon olive oil
3 ½ cups flour
2 teaspoon yeast
6 to 10 fresh basil leaves, washed
½ teaspoon garlic powder
6 ounces sliced provolone cheese
1 cup spinach leaves, washed and stems trimmed
½ teaspoon course salt
2 tablespoon olive oil
In a small bowl, stir together water, salt and oil. In a large mixing bowl, stir together 2 cups of flour and the yeast. Make a well in the center of the flour and yeast mixture, and pour in water, salt, and oil mixture.
Stir until blended, scraping sides. Stir in remaining flour. Begin kneading with an electric mixer on low speed using dough hooks adding additional flour if necessary, 1 tablespoon at a time, until dough pulls away from the side of the bowl. Continue kneading on low speed for 10 minutes, until dough is smooth and elastic.
Place dough in an oiled bowl. Turn dough to coat with oil. Cover bowl loosely with a dish towel and put in a draft-free place. Let dough rise until doubled in size, about 1-1 ½ hours.
Divide the dough into two equal pieces. Chafe for 5 minutes then let rest for 10 minutes (See notes).
Stack the basil leaves in a single stack.
Roll the leaves up tightly.
Slice the rolled basil into 1/4" ribbons.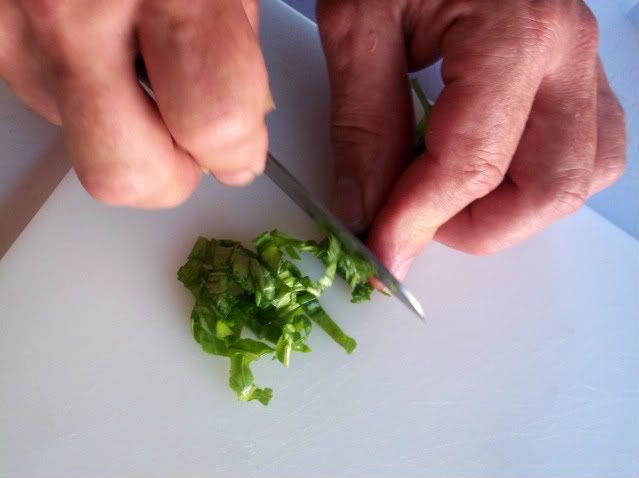 My hubby should be a hand model.
Roll out each piece of dough into a 10 in. circle. Place one circle on an oiled baking sheet. Sprinkle dough evenly with garlic powder. Arrange cheese slices, spinach, and basil over the top.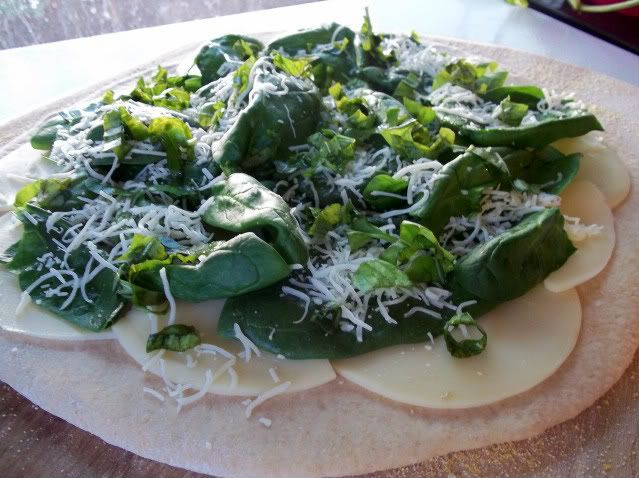 I had some Parmesan on hand, so I added that, too.
Cover filling with second round, then seal by gently pinching the edges together. Cover loosely with dish towel. Let rise until doubled, about 30 minutes.
Using fingertips or handle end of a wooden spoon, gently press into the surface of the dough to form dimples about ½ in deep and about 1 in. apart. Brush with 1 tablespoon of olive oil. Sprinkle with course salt.
Bake at 400°F for 30-45 minutes, until golden. Brush immediately with the remaining tablespoon of oil. Serve warm.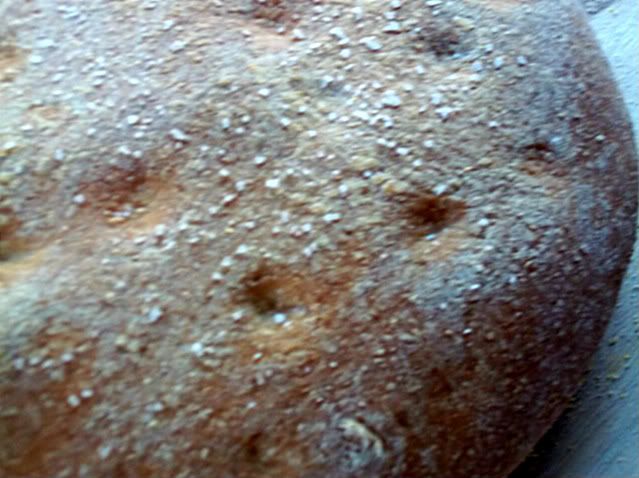 *Chafing
– Form the dough into a ball by cupping your hands gently around it. Apply a light downward pressure to the sides, while simultaneously rotating the dough continuously in a steady clockwise direction. Continue until the dough is formed into an even round shape. This recipe specifies an extended chafing time. To tell you the truth, I have no idea what this does for the dough, but I did end up with a nice round ball that held its shape well even when rolled. I will definitely use this technique again.
*The original recipe called for unbleached flour; however, I use a mixture of unbleached flour and fresh-milled hard white flour. The mixture of flours give this foccacia a great flavor and texture! I believe this recipe would also do well with bread flour.
*I like using my heavy-duty mixer to make my breads, so that's the technique described in the recipe. The recipe will work equally well if you knead by hand or use the dough cycle on your bread machine. Use whichever technique works best for you.
*Feel free to experiment with the filling. The original recipe called for Gorgonzola, mozzarella, and a lot more basil. I don't usually have Gorgonzola on hand. It doesn't really fit in my budget, so I made up a filling with items my family and my budget would like. I bet this would taste good with some sun-dried tomatoes, mozzarella, basil, and a serious amount of garlic. Have fun and experiment!
*Team this foccacia with a nice big salad for a very filling lunch or dinner.
Thanks for stopping by! I found the original recipe in the book
Ultimate Bread
by Eric Treuille and Ursula Ferrigno. I was a little leery about trying a bread recipe that called for no sweetener whatsoever. I always believed yeast needed both water and sugar to release enough gas to raise the dough. I was pleasantly surprised at how light and delicious this bread baked up even without sugar or honey.
Grace and peace be yours in abundance
.