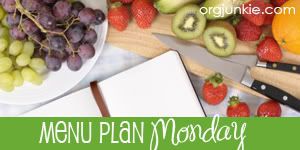 Yes, I finally did it! I finally menu planned for an entire month, and it wasn't as difficult or time-consuming as I thought it would be.
Already being in the habit of menu planning definitely made my month-long menu planning a bit easier. I also already make specific types of meals on certain days of the week because of our schedule. Once I filled in those easy days and Jared's cooking lesson days, I only had a few days left to fill in.
I'm certain that I'll be tweaking the menu throughout the month, but for now, I have a full month of menus.
My month of meals has also inspired me to cut back on my shopping trips even more. Since I have a plan, creating a list of non-perishables that I'll need during the month should be simple, leaving only the weekly run for fresh produce. That idea is really starting to sound quite appealing!
Anyway, I'm pretty excited about having a month-long menu plan. I'll let you know how it works out.
I pray you have a blessed week with less stress because you created a menu plan!
Menu Plan for Week of 05/07/2012
Lunch
Lunch of the week – Salads, wraps or leftovers
Fruit of the week – Apples, oranges, watermelon, mangos, pineapple
Dinner
Monday – Chili stuffed baked potatoes, salad
Wednesday – Tacos, salad
Thursday – Jared's Cooking Lesson: Tater tot casserole (at Jared's request).
Friday – Sautéed veggies in marinara over homemade pasta, salad
Saturday – White Chili, tortilla strips, salad
Sunday – I have no idea what my dear family has planned. I'd be fine with PB&Js for Mother Day, just as long as I don't have to plan it, purchase the ingredients for it, cook it, or clean up after it.
Thank you for stopping by!
Grace and peace be yours in abundance,